Welcome to Schwab Private Client™, the proactive approach to wealth management you deserve.
At its core is a dedicated team that collaborates with you to help you achieve your financial goals—now and as they evolve in the future.
To help meet your unique wealth management needs, your team creates, monitors, and adjusts a sophisticated strategy that's tailored for you. You stay informed, and you always stay in control.
Minimums and fees:
The investment minimum is $500,000.
The annual fee starts at 0.90% for equities and 0.70% for fixed income.
To discuss Schwab Private Client and your advice needs, call us at 866-645-4124.
The Schwab Accountability Guarantee™
At Schwab, we believe every investor deserves accountability. If for any reason you're not happy with Schwab Private Client™, the Schwab Accountability Guarantee means we'll refund your program fee from the previous quarter and work with you to make things right.*
More than a single advisor. An entire team.
Your dedicated team stays focused on your financial goals and how best to attain them.
Your Financial Consultant manages your overall relationship with Schwab.
Your Portfolio Consultant provides ongoing advice and is your conduit to specialists who can weigh in as needed in areas like fixed income, options, and estate planning.
Your Associate Portfolio Consultant swiftly handles all of your service needs.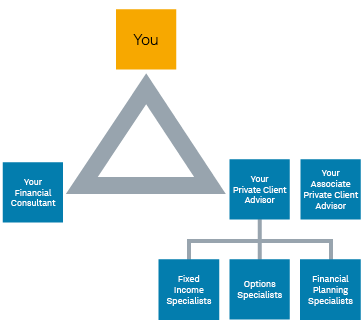 More than investments. It's ongoing wealth management.
You receive ongoing advice from a team that considers the particulars of your situation, including retirement income planning, estate planning, and insurance. And your team proactively monitors your portfolio, suggesting adjustments as your needs—and market conditions—evolve.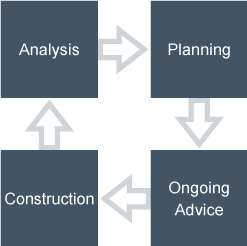 More than a diversified portfolio. A remarkably sophisticated one.
At the core of your wealth management strategy is your portfolio. Using our modern approach to portfolio construction, your team will help you choose an asset allocation with the optimal blend of growth and income, depending on your risk tolerance, financial goals, and circumstances.
The investment strategies outlined here are just two of the many options available.
Total Return Moderate Strategy With Taxable Bonds
For those who primarily want a combination of growth and income.
See expanded asset classes
13%US Large Stocks
8%US Small Stocks
3%US Listed REITs
9%Int'l Large Stocks
5%Int'l Small Stocks
5%Int'l Emg Mkt Stocks
2%Int'l Listed REITs
2%US Inter. Treasuries
7%US Inv Grade Corp
5%US Gov-Related
11%US Securitized
1%US TIPS
10%US High-Yield Corp
5%Int'l Dev Ctry Bonds
5%Int'l Emg Mkt Bonds
1%Agriculture
1%Gold/Precious Metals
1%Industrial Metals
1%Energy
5%Cash Investments
Data as of August 2014.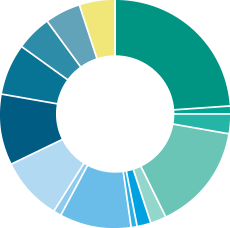 Income Moderate Strategy With Taxable Bonds
For those who primarily want current income.
See expanded asset classes
24%US Large Stocks
1%US Small Stocks
3%US Listed REITs
15%Int'l Large Stocks
2%Int'l Small Stocks
2%US Inter. Treasuries
1%US Inv Grade Corp
10%US Gov-Related
1%US Securitized
9%US TIPS
10%Int'l Dev Ctry Bonds
7%Int'l Emg Mkt Bonds
5%Agriculture
5%Gold/Precious Metals
5%Cash Investments
Data as of August 2014.
For illustrative purposes only. Subject to change.
Learn how we're rethinking asset allocation. Watch now
Not one-size-fits-all. Tailored for your personal situation.
Unlike many rigid or narrowly focused managed solutions, Schwab Private Client is designed to consider every aspect of your overall financial picture. Your team will recommend a tailored portfolio aligned with your goals.
You'll have total access—and the final say. After weighing your team's recommendations and rationale, you'll make all final investing decisions. And you'll receive in-depth reports and scheduled communications on an ongoing basis to help you stay on track.
Questions? We're ready to help.
Learn more about our modern approach to wealth management.     
Contact us today to discuss how Schwab Private Client can be tailored to your unique situation.
*Schwab Accountability Guarantee:
The guarantee applies to the following investment advisory services ("Participating Services") and associated program fees: (i) Schwab Private Client ("SPC"); (ii) Schwab Managed Portfolios™ ("SMP"); and (iii) Managed Account Connection® ("Connection") for accounts that are managed by investment advisors affiliated with Charles Schwab & Co., Inc. ("Schwab"): Windhaven Investment Management, Inc. ("Windhaven®"), ThomasPartners, Inc. ("ThomasPartners®"), and Charles Schwab Investment Management, Inc. ("CSIM").

The guarantee does not apply to (i) accounts managed by investment advisors that are not affiliated with Schwab; (ii) accounts managed by Schwab-affiliated advisors outside of the SPC, Connection, and SMP programs; or (iii) any other product or service made available by Schwab or its affiliates. SPC, SMP, and Connection are wrap fee programs sponsored by Schwab.

If at any time or for any reason you are not completely satisfied with a Participating Service, at your request Schwab will refund the associated program fee for the previous calendar quarter applicable to the Participating Service. The program fee is a percentage of the eligible assets in your Participating Service account(s). You will receive a credit to your Participating Service account(s) within approximately four weeks of your request. No other fees, commissions, charges, expenses, or market losses will be refunded. If Schwab is unable to address your concerns after consulting with you and refunding your program fee, Schwab will work with you to help meet your financial goals. Schwab reserves the right to change this guarantee in the future after providing notice. For additional information regarding associated program fees, please see the disclosure brochure for the Participating Service, available at the time you enroll or upon your request.
The Portfolio Consultant, Associate Portfolio Consultant, and other representatives making investment recommendations in your Schwab Private Client accounts are employees of Schwab Private Client Investment Advisory, Inc.

Please read the Schwab Private Client and the Schwab Private Client Investment Advisory, Inc. Disclosure Brochures for important information and disclosures about this service. Portfolio management is provided by Schwab Private Client Investment Advisory, Inc., a Registered Investment Advisor and an affiliate of Charles Schwab & Co., Inc.

Asset allocation and diversification strategies do not ensure a profit and do not protect against losses in declining markets.
 
Your account may be subject to a lower fee schedule than described above if you or someone in your household (e.g., generally a person with the same last name living at the same address) opened a Schwab Private Client account before January 1, 2014, and has continuously maintained at least one Schwab Private Client  account since the time of that initial Schwab Private Client enrollment.