Manage and trade your own investments.
Build, trade, and manage your portfolio your way at Schwab.
$0 online equity trade commissions1
Powerful trading platforms
Tools for investing and trading
Expert insights, resources, and education
Support from investing and trading specialists
We're committed to delivering low prices.
No matter how you manage and trade your investments, one thing is certain—we support you with some of the lowest pricing in the industry.
Online Listed Equity Commissions
Options per contract2, $0 online commission1
Online Listed ETF Commissions3
Choose from a wide selection of low-cost products.
You'll also benefit from some of the lowest pricing for mutual funds, bonds, and futures. See how we compare.
Elevate your digital experience with powerful yet easy-to-use trading platforms.
Streamlined investing and trading
Get robust tools and research at your fingertips on Schwab.com.
Stay on top of the markets and your accounts wherever you go with Schwab Mobile apps.
Advanced trading platform
Active traders
Trade smarter with platforms, education, and support created exclusively for active traders.
---
Invest and trade with confidence with our full range of tools and resources.
Click through a sampling of our tools below to learn more.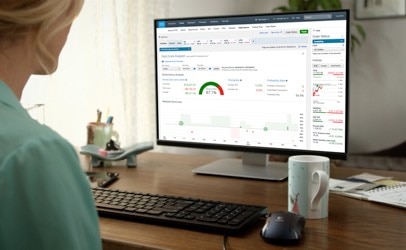 Portfolio Overview
Portfolio Overview
Get a clear view of what's going on in your portfolio at a glance. View your balances and positions, track your assets over time, get market updates, and more—in one place.
Link your non-Schwab account information for a more complete view of your finances and holdings.
Portfolio Builders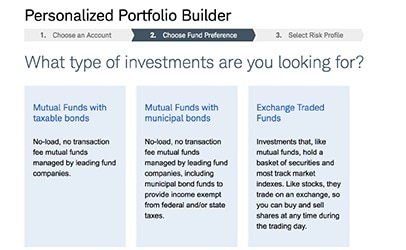 Portfolio Builders
Build a diversified portfolio of ETFs or mutual funds with tools using Schwab's asset allocation models that range from conservative to aggressive.
Retirement and College Savings Calculators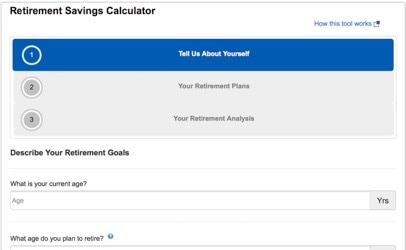 Retirement and College Savings Calculators
Find out where you stand today, and how much to save for key financial milestones with our retirement and college savings calculators.
Research and Screeners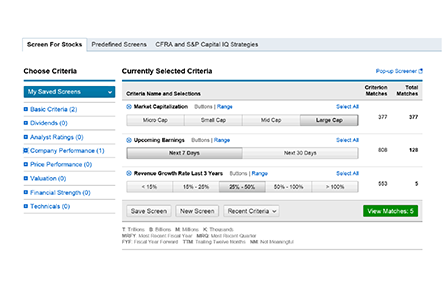 Research and Screeners
Screen for ETF, mutual fund, and stock investments using over 100 criteria, Schwab experts' top picks and more.
Identify trade opportunities based on predefined strategies or your own custom criteria.
Trading Ideas
Trading Ideas
Get actionable ideas that fit the style and timing of your strategy with the Strategy Screener.
Explore options trading ideas based on bullish, bearish, or neutral sentiment with Idea Hub®.
Advanced Charting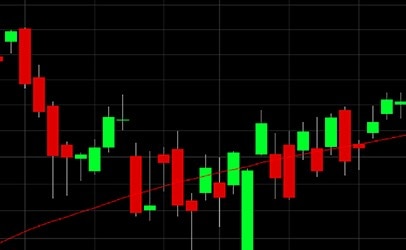 Advanced Charting
Create custom real-time charts with a robust number of studies and styles.
Receive pattern-based strategy ideas and decision support intraday.
Execution Tools
Execution Tools
Easily trade multiple securities using a variety of order types with our All-In-One Trade Ticket.
Automate adjustments to orders to help obtain favorable execution prices with Walk Limit.
Set up Conditional Orders that only fire if specific conditions are met.
Gain/Loss Analyzer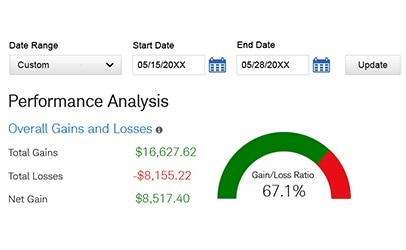 Gain/Loss Analyzer
Quickly visualize and analyze your trade performance using simple visual assessment of your portfolio.
Leverage key success metrics that explain what you're doing well and areas to improve.
---
Stay at the forefront with the help of our expertise.
Expert insights and market commentary
Expert ratings and investment screeners
Live webcasts and daily content
Knowledgeable support and trading teams available to you 24/7.
Experienced customer support from licensed and U.S.-based professionals.

Trading specialists are ready to talk trading, provide real-time trade analysis and more.

Product specialist teams can help with fixed income, options, and futures questions.

24/7 support from teams who want to answer your questions. Get answers via phone, and live chat, or visit a local branch near you.
---