Let's chat
Professional answers 24/7
Hi, have questions about our trading services or tools? I can help …
Live chat
Now available on Apple Watch™
Staying connected to the markets and your portfolio just got more convenient with Schwab Mobile for your Apple Watch.
Monitor market headlines and your customized iPhone® watchlist at a glance.
View detailed stock quotes, news articles and intra-day charts.
Initiate an order then complete it on your iPhone mobile app.
Get the app:
Monitor your portfolio and access intuitive trading tools optimized for tablets and smartphones wherever you are with Schwab mobile.
Securely access and manage accounts
Login to Schwab Mobile using your fingerprint on Touch ID® -capable Apple devices.
View detailed balance and position summaries for multiple Schwab accounts.
Transfer funds between most Schwab brokerage accounts on your tablet, iPhone, or Android device.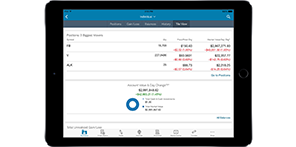 Place trades and monitor orders and positions
Trade stocks, ETFs, mutual funds, and options.
View, edit, or cancel open orders and close out of positions.
Get breaking news on your positions
The Stay Connected™ feature allows you to view news and events specific to your holdings - exclusively for Schwab Trading Services clients. 
View market data in real time
See market and security quotes in real time, including market summaries, indices data, and most actives.
Monitor your own custom real-time watch lists.
Research opportunities with interactive charts
View price and volume data on stocks, ETFs, options, and indices using the chart feature.
Add price indicator studies and comparisons to charts on iPhone® or Android.
View a live stream of CNBC TV
Receive a commercial-free live stream of the CNBC broadcast right on your mobile device.
Available 24 hours a day, every business day.
Stay on top of your options trading
Idea Hub® tool helps traders explore options trading ideas—from bullish to bearish to neutral—updated throughout the trading day.
Trade Calculator lets you view the potential profit or loss for your options strategy.

Functionality varies by device.

Requires a wireless signal or mobile connection. System availability and response times are subject to market conditions and mobile connection limitations.
Apple®, AppStore®, the Apple logo, Apple Watch, iPhone and iPad are trademarks of Apple Inc., registered in the U.S. and other countries. App Store is a service mark of Apple Inc.
Android and GooglePlay are trademarks of Google Inc. Use of this trademark is subject to Google Permissions. 

CNBC TV material is prepared by an independent third party that is not affiliated with Schwab. Schwab does not edit or endorse any of this material and is not responsible for its content.
Symbols and price and volume data shown here are for illustrative purposes only, and do not constitute a recommendation by Schwab to buy or sell a particular security.
Idea Hub offers self-directed investors the ability to explore new trading ideas for options that are determined based on pre-set screening criteria. Please note that Idea Hub does not consider open orders, existing positions, or other factors, and is solely intended for educational and informational purposes. The examples within the Idea Hub are not intended as recommendations to buy, sell or hold any particular security nor implement any particular strategy. Users of the Idea Hub should not make investment decisions based solely upon the ideas generated by this tool. You are solely responsible for your investment decisions, and should carefully evaluate the examples to help determine whether or not they are right for you based on your own personal situation. The use of this tool does not constitute an investment recommendation by Schwab, and should also not be considered financial, legal or tax advice. Where specific advice is necessary or appropriate, Schwab recommends consultation with a qualified tax advisor, CPA, financial planner, or investment manager.
The projects or other information generated by Idea Hub regarding the likelihood of various investment outcomes at expiration are hypothetical in nature, do not reflect actual investment results and are not guarantees of future results. The above calculations do not take into consideration all costs, such as commissions, taxes and margin interest which may impact the results shown and users of Idea Hub should not make investment decisions based solely upon values generated by it. Please contact a tax advisor for the tax implications involved in these strategies.
The illustration depicts the Potential Profit or Loss of one contract at expiration. Values below zero represent a loss.
The Trade Calculator provides calculations that are hypothetical in nature and do not reflect the actual investment results or guarantee future results. The calculations do not consider all costs, such as commissions, taxes and margin interest which may impact the results shown and do not consider other positions in your account(s) for which a specific trading scenario is being examined. Rather, these values are based solely on the individual contract or pair of contracts in this specific trade. Users of the Trade Calculator should not make investment decisions based solely upon values generated by it. Please contact a tax advisor for the tax implications involved in these strategies. 
In addition, the calculations incorporate annualized dividend yields and do not consider ex-dividend dates, early assignment, and other risks associated with option trading. If an option expires before the estimated date, it is treated as though it expires on the estimated date. Investment decisions should not be made based solely upon values generated by the Trade Calculator.
Investing involves risks including loss of principal.
Options carry a high level of risk and are not suitable for all investors. Certain requirements must be met to trade options through Schwab. Multiple leg options strategies will be subject to multiple commissions. Covered Calls provide downside protection only to the extent of the premium received and limit upside potential to the strike price plus premium received. Please read the options disclosure document titled Characteristics and Risks of Standardized Options
before considering any option transaction. Supporting documentation for any claims or statistical information is available upon request. 
Statistical data including open interest, volatility and volume are based on current market data and results may vary with each use. Interpretation and use of the data or analysis shown is at the user's own risk.  

Indexes are unmanaged, do not incur management fees, costs and expenses, and cannot be invested in directly.

Schwab Trading Services™ includes access to StreetSmart® trading platforms, the Schwab Trading Community, and Schwab trading specialists (a Schwab brokerage account is required). There are no fees to use Schwab Trading Services. Other account fees, optional data fees, fund expenses, and brokerage commissions may apply. Schwab reserves the right to restrict or modify access at any time. Schwab brokerage account online applications that have the "Schwab Trading Services" box checked will automatically be enrolled. For questions, call 888-245-6864 to speak to a Schwab Trading Services representative.

Charles Schwab & Co., Inc., is not responsible for any losses that occur from such investments. All information on this chart is obtained from sources believed to be accurate and reliable, however, errors or omissions are possible due to human and/or systematic error. Investors should consider the chart(s) shown as only a single factor in making their investment decision while taking into account the current market environment and their own individual situation. Reliance on such information involves risks.

(1019-990H)