We can help make your home dreams a reality.
Charles Schwab Bank partners with Rocket Mortgage®—America's largest mortgage lender1—to provide you with award-winning service and a range of mortgage products to choose from.
Ready to get started?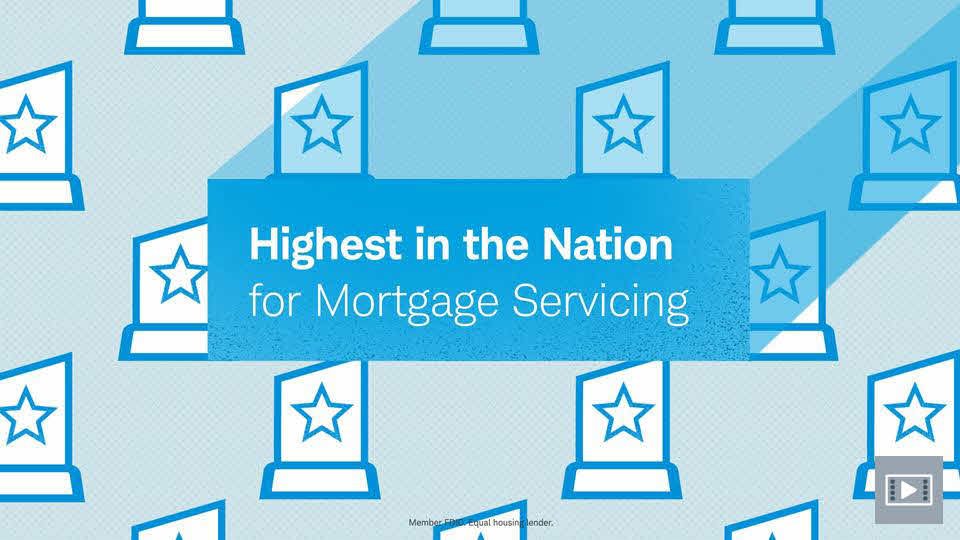 Schwab Bank & Rocket Mortgage
Opens in popup

Read transcript
Transcript
For more than 40 years, Charles Schwab has focused on putting clients first.
That's why Schwab Bank joined forces with Rocket Mortgage® in 2012 — to provide you with home lending options from America's largest mortgage lender.1
For 11 years in a row,2 J.D. Power has ranked Rocket Mortgage highest in the nation in customer satisfaction for Primary Mortgage Origination. And for the 7th year in a row,2 they also ranked Rocket Mortgage highest in the nation for Mortgage Servicing.
We believe Rocket Mortgage's dedication, commitment, and best-in-class service makes them a natural fit for Schwab Bank clients.
Throughout the loan process, you'll work with both Schwab Bank and Rocket Mortgage to receive industry-leading technology, the convenience of viewing loan information via your Schwab.com account, advantaged pricing, and of course, all that J.D. Power award-winning service.
At Schwab Bank, we're looking out for your best interests.
And with home mortgages from Rocket Mortgage, you know you're working with a loan provider that's as committed to meeting your goals as we are.
Schwab Bank & Rocket Mortgage...
A perfect match today, so you can Own your tomorrow.

Brokerage Products: Not FDIC-Insured • No Bank Guarantee • May Lose Value
In order to participate, the borrower must agree that the lender, Rocket Mortgage, may share their information with Charles Schwab Bank and Charles Schwab Bank will share their information with the lender Rocket Mortgage. Nothing herein is or should be interpreted as an obligation to lend. Loans are subject to credit and collateral approval. Other conditions and restrictions may apply. This offer is subject to change or withdraw at any time and without notice. Interest rate discounts cannot be combined with any other offers or rate discounts. Hazard insurance may be required.
1. "Rocket Mortgage, America's Largest Mortgage Lender" based on Rocket Mortgage data in comparison to public data records.
2. Rocket Mortgage received the highest score in the J.D. Power 2010–2020 (tied in 2017) Primary Mortgage Origination and 2014–2020 Primary Mortgage Servicer Studies of customers' satisfaction with their mortgage sales experience and mortgage servicer company, respectively. Visit JDPower.com/Awards.
Rocket Mortgage, LLC; NMLS #3030; www.nmlsconsumeraccess.org. Equal Housing Lender. Licensed in 50 states. AL License No. MC 20979, Control No. 100152352. AR, TX: 1050 Woodward Ave., Detroit, MI 48226-1906, (888) 474-0404; AZ: 1 N. Central Ave., Ste. 2000, Phoenix, AZ 85004, Mortgage Banker License #BK-0902939; CA: Licensed by Dept. of Business Oversight, under the CA Residential Mortgage Lending Act and Finance Lenders Law; CO: Regulated by the Division of Real Estate; GA: Residential Mortgage Licensee #11704; IL: Residential Mortgage Licensee #4127 – Dept. of Financial and Professional Regulation; KS: Licensed Mortgage Company MC.0025309; MA: Mortgage Lender License #ML 3030; ME: Supervised Lender License; MN: Not an offer for a rate lock agreement; MS: Licensed by the MS Dept. of Banking and Consumer Finance; NH: Licensed by the NH Banking Dept., #6743MB; NV: License #626; NJ: New Jersey – Rocket Mortgage, LLC, 1050 Woodward Ave., Detroit, MI 48226, (888) 474-0404, Licensed by the N.J. Department of Banking and Insurance.; NY: Licensed Mortgage Banker – NYS Banking Dept.; OH: MB 850076; OR: License #ML-1387; PA: Licensed by the Dept. of Banking – License #21430; RI: Licensed Lender; WA: Consumer Loan Company License CL-3030. Conditions may apply. Lending services provided by ©2000–2021 Rocket Mortgage LLC, a subsidiary of Rock Holdings Inc. "Rocket Mortgage" is a registered service mark of Intuit Inc., used under license.
Charles Schwab Bank, SSB and Charles Schwab & Co., Inc. are separate but affiliated companies and subsidiaries of The Charles Schwab Corporation. Brokerage products offered by Charles Schwab & Co., Inc. (Member SIPC) are not insured by the FDIC, are not deposits or obligations of Charles Schwab Bank, SSB and are subject to investment risk, including the possible loss of principal invested. Charles Schwab & Co., Inc. does not solicit, offer, endorse, negotiate or originate any mortgage loan products and is neither a licensed mortgage broker nor a licensed mortgage lender. Home lending is offered and provided by Rocket Mortgage, LLC. Rocket Mortgage LLC., is not affiliated with The Charles Schwab Corporation, Charles Schwab & Co., Inc. or Charles Schwab Bank, SSB. Deposit and other lending products are offered by Charles Schwab Bank, SSB, Member FDIC and Equal Housing Lender.
© 2021 Charles Schwab Bank, SSB. All rights Reserved. Member FDIC. Equal Housing Lender. (0721-1HJL) ELC115029-00 (06/21)
Close
Everything you'd expect from Schwab Bank—and more.
Find a mortgage solution tailored to your needs—whether you're purchasing a home, refinancing your mortgage, or taking advantage of your home's equity for the first time. 
For eight years in a row now, J.D. Power has ranked Rocket Mortgage highest in customer satisfaction for Mortgage Servicing.2

Throughout the loan process, you'll work side by side with both Schwab Bank and a Rocket Mortgage team solely dedicated to serving Schwab clients. 

Closing may take place at your home, your office, or another preferred location, and you can sign and submit most disclosures and supporting documents electronically.

With electronic documents, you'll reduce paperwork and save time by eliminating the scanning and mailing of forms.
 

As a Schwab client, you have access to competitive interest rates for home loans on a variety of loan types.

Plus, you may be eligible for additional discounts based on your combined assets with Schwab.
Mortgage First Preapproval
With Mortgage First, offered by Schwab Bank's home loan provider, Rocket Mortgage, you can become a more competitive buyer with preapproval on your loan.3 You'll enjoy the benefits—before you even begin to shop for your new home.
or call Rocket Mortgage today at 877-535-4021
See the rate you qualify for based on the goals and data you provide to help plan your mortgage. Plus, set alerts to stay up to date on mortgage rate changes. 

Get a customized mortgage rate quote
Get answers to common questions.
Mortgage First
Mortgage First is a preapproval program that allows you to get preapproved on your home loan before you start shopping for your new home.

By providing documentation upfront and getting preapproved, you will have confidence while shopping for your house, knowing that you've already been preapproved for financing. Additionally, being preapproved upfront can give you a competitive advantage in the market.

You will need to complete the credit application and provide your income, asset, and credit documentation for review in order to get preapproved.