Working with you to keep your information SchwabSafe®.
We're dedicated to protecting your account, and working with you to make it even more secure. 

Security Knowledge Center
Visit our how-to guides, tips, and more to help you stay safe online. Learn more >

How we protect you.
We're always updating our technology, people, and protocols to keep your personal and financial information safe. While we can't share the details, here are some of the ways we protect you.
Our sites feature encryption and risk-based security technology. These controls, combined with automated alerts, an identity verification process and rigorous monitoring, help defend against unauthorized account access.

Highly-trained specialists

Employees who handle sensitive information are trained in privacy and security. Our commitment to the privacy of your personal and financial information can be found here.

Secure process and procedures

Whether you call, visit a branch or go online, your identity will be verified before any sensitive information is discussed.

How to do your part.
To ensure your information is as safe as it can be, security has to be a partnership. Here's what you can do to make your account even more secure.
Access your account over the phone by saying the passphrase when prompted. Voice ID is fast, convenient and secure.*

 

Call us to enroll at 800-435-4000.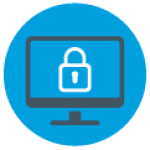 How to stay safe online.
Regularly view your account activity and look out for suspicious transactions.

Don't share personal information.

Don't post personal sensitive information on social media. That includes details such as contact and personally identifiable information.

Be cautious of phishing attempts.

Don't open or accept communications from an unfamiliar source, including phone calls, emails, or texts. Instead, reach out to the individual or company using the contact information from their official website.

Requests for payments using gift cards and prepaid debit cards are often associated with scams.
Security Guarantee
Schwab will cover losses in any of your Schwab accounts due to unauthorized activity. Learn more >
Additional steps you can take.
Contact
Have questions about security at Schwab?