What are preferred stocks?
Preferred stocks (or preferred securities) are a type of investment that pays interest or dividends to investors before dividends are paid to common stockholders. Like bonds, preferred stocks usually pay a fixed coupon rate based on a set "par" value. These investments tend to have very long maturities—usually 30 years or longer—or no maturity at all, meaning they are perpetual. However, most preferred stocks are callable, which means the issuer can redeem them at a set price (usually par) before the stated maturity date. Like bonds, preferred stocks generally carry a credit rating from a recognized rating agency, and that rating tends to be a little lower than the issuing firm's individual bond rating.
Why would Schwab recommend preferred stocks?
Preferred stocks are designed to provide a steady income through quarterly interest or dividend payments, and their yields tend to be higher than those of other traditional fixed income investments. Also, most preferred stocks are traded on a stock exchange, so there is greater price transparency.
What does Schwab charge to trade preferred stocks?
New-issue stock
Schwab receives a selling concession for distributing a security to Schwab customers.
Secondary market
Online price
commission2 per trade
Broker-assisted trade
Online price + $25 per trade
Take a closer look at the benefits.
Regular income

Preferred stocks usually pay quarterly dividend or interest payments.

Liquidity

Most preferred stocks are quoted and traded on a stock exchange, so their price is visible at all times and they can be tracked and traded throughout the day. However, depending on the size of the preferred stock issue, there can still be a large bid-ask spread when they are traded.

Senior to common stocks

Preferred stocks are senior to common stock in payment of interest or dividends, so they are paid out before payments are made to common stockholders.

Trading flexibility

Stop orders can be used on exchange-traded preferred stocks to manage risk.
Review the risks.
In addition to the risks commonly associated with fixed income securities, such as call, liquidity, reinvestment, inflation (or purchasing power), market, and event risks, the following risks should be considered when making decisions about preferred stocks:
Credit rating

Because preferred stocks are lower in the capital structure than bonds, the credit rating for preferred stocks is generally lower than that for the bonds the company issues. Therefore, preferred stocks have higher risk.

Interest rate fluctuation

Due to their long maturity dates (or lack of a maturity date in some cases), the prices of preferred stocks are generally very sensitive to changes in interest rates. If interest rates rise, preferred stock prices tend to fall.

No dividend guarantees

For many preferred stocks, a missed coupon payment doesn't necessarily constitute a default. Unpaid coupon payments accrue to holders of cumulative preferred stocks, but they are lost with non-cumulative preferred stock. Before buying a preferred stock, always pay attention to the characteristics of the individual issue.
Details about preferred stock risk
Interest rate

The risk that the value of a fixed income security will fall as a result of a change in interest rates. This risk can be reduced by diversifying the maturities of fixed income investments or investing in floating rate securities.

Credit

The risk that a security will default or that its credit rating will be downgraded, resulting in a decrease in value for the security. The measurement of credit risk usually takes into consideration the risk of default, credit downgrade, or change in credit spread.

Call

The risk to bondholders that a call option will be exercised by the issuer at an unfavorable time for the holder, such as when interest rates are low. If you are a bondholder whose security is called, you can lose potential interest income.

Liquidity

The relative ability of a security to be sold without substantial transaction costs or reduction of value. The harder it is to sell a security or the greater the loss in value resulting from a sale, the greater the liquidity risk.

Reinvestment

The risk that cash flows from an investment will be reinvested when interest rates are lower, resulting in a possible reduction in cash flow. To mitigate reinvestment risk, an investor can purchase non-callable bonds, which are not subject to early redemption and/or ladder bond maturities at different intervals over time.

Inflation (purchasing power)

The risk that inflation will erode the real return on investment. This occurs when prices rise at a higher rate than investment returns and, as a result, money buys less in the future. The risk is greatest if you're investing over long periods of time.

Market and event

The risk that a change in the overall market environment or a specific occurrence such as a political incident will have a negative impact on the price/value of your investment.
Find preferred stock.
Preferred Shares Screener
Search hundreds of preferred stocks and filter by criteria such as current yield ranges, ratings, industry, company name, and preferred stock characteristics.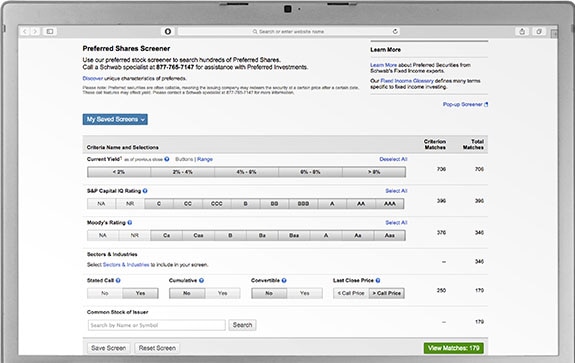 Take advantage of resources to help you make decisions.
1. Current yield is used to assess a security's income relative to its current market value and should not be used as an indicator of expected total return. Current yields do not take into account the total return over the life of the security, reinvestment risks, and price appreciation or depreciation, which may adversely affect a security's performance. Also, preferred securities with a positive current yield may produce a negative total return. Measures such as yield-to-maturity (YTM), yield-to-call (YTC) and yield-to-worst (YTW) are better indicators of expected total return and should be considered prior to transacting on a preferred security. Yield-to-maturity (YTM) calculates the annual rate of return assuming a security is held to maturity. Yield-to-call (YTC) calculates the annual rate of return assuming a security is redeemed on the first or next call date. Yield-to-worst (YTW) provides the lowest potential rate of return for a security, and is generally the lower of the yield-to-maturity or yield-to-call for every possible call date. For more information or to obtain the yield-to-maturity, yield-to-call and/or yield-to-worst, contact a Schwab specialist at 877-765-7147.
2. The standard online $0 commission does not apply to large block transactions requiring special handling, restricted stock transactions, trades placed directly on a foreign exchange, transaction-fee mutual funds, futures, or fixed income investments. Options trades will be subject to the standard $.65 per-contract fee. Service charges apply for trades placed through a broker ($25) or by automated phone ($5). Exchange process, ADR, foreign transaction fees for trades placed on the US OTC market, and Stock Borrow fees still apply. See the Charles Schwab Pricing Guide for Individual Investors for full fee and commission schedules.

As your agreement for the receipt and use of market data provides, the securities markets (1) reserve all rights to the market data that they make available; (2) do not guarantee that data; and (3) shall not be liable for any loss due either to their negligence or to any cause beyond their reasonable control.
Preferred securities are often callable, meaning the issuing company may redeem the security at a certain price after a certain date. Such call features may affect yield. Please see above and call a Schwab specialist at 877-765-7147 for additional information before investing in preferred securities.
Preferred securities generally have lower credit ratings and a lower claim to assets than the issuer's individual bonds. Like bonds, prices of preferred securities tend to move inversely with interest rates, so they are subject to increased loss of principal during periods of rising interest rates. Investment value will fluctuate, and preferred securities, when sold before maturity, may be worth more or less than original cost. Preferred securities are subject to various other risks including changes in interest rates and credit quality, default risks, market valuations, liquidity, prepayments, early redemption, deferral risk, corporate events, tax ramifications, and other factors. Dividend or interest payments on preferred securities may be variable, suspended or deferred by the issuer at any time, and missed or deferred payments may not be paid at a future date. Investors may incur a tax liability on the deferred income. Consult your tax advisor regarding your specific circumstances. Certain preferred securities are convertible into common stock of the issuer; therefore, their market prices can be sensitive to changes in the value of the issuer's common stock. Some preferred securities are perpetual, meaning they have no stated maturity date. In the case of preferred securities with a stated maturity date, the issuer may, under certain circumstances, extend this date at its discretion. Extension of maturity date would delay repayment of principal on the securities. Prior to investing, investors should carefully consider information on the terms and conditions of the security located in the prospectus, including specific risks and features, which can be located on the SEC's EDGAR system.
This screening tool does not consider your particular investment objectives or financial situation and does not make personalized recommendations. The investment strategies and the stocks shown may not be appropriate for you. You should evaluate each strategy and stock in light of your investment objectives, financial situation, risk tolerance, and asset allocation plan. In the past, none of the strategies has dominantly outperformed the others over time. The screening criteria used for each strategy and the screening results represent one sample execution of the particular strategy. Schwab may change the screening criteria at any time. The screening criteria and the screened stocks shown may not match your needs. You can modify the criteria as you see fit. This tool should not be construed as an offer to sell or a solicitation of an offer to buy any security. Schwab and its affiliates, employees and consultants may have positions in the securities noted and may, as principal or agent, buy them from or sell them to customers. Schwab or its affiliates may perform or solicit investment banking or other services from any company issuing the securities noted. Neither Schwab nor the Providers (1) guarantee the accuracy, timeliness, completeness or correct sequencing of the information, or (2) warrant any results from use of the information. The universe of preferred stocks used in this screener includes listed securities but excludes those securities available in the over the counter market and those of bankrupt companies.

The Global Industry Classification Standard (GICS) was developed by and is the exclusive property of Morgan Stanley Capital International Inc. and S&P Capital IQ. GICS is a service mark of MSCI and S&P Capital IQ and has been licensed for use by Schwab.
The news sources used on Schwab.com come from independent third parties. Schwab is not affiliated with any of the news content providers. Schwab is not responsible for the content, and does not write or control which particular article appears on its website.
Fixed income securities are subject to increased loss of principal during periods of rising interest rates. Fixed income investments are subject to various other risks including changes in credit quality, market valuations, liquidity, prepayments, early redemption, corporate events, tax ramifications, and other factors.
Preferred stocks: (1) generally have lower credit ratings than a firm's individual bonds; (2) generally have a lower claim to assets than a firm's individual bonds; (3) often have higher yields than a firm's individual bonds due to these risk characteristics; (4) are often callable, meaning the issuing company may redeem the stock at a certain price after a certain date. Please call a Fixed Income Specialist at 800-626-4600 to obtain call information before investing in preferred stocks.
This information is not intended to be a substitute for specific individualized tax, legal, or investment planning advice. Where specific advice is necessary or appropriate, Schwab recommends consultation with a qualified tax advisor, CPA, financial planner, or investment manager.