You choose a mutual fund portfolio solution. We do the rest.
Our portfolio solutions are automatically rebalanced, helping keep you on track and saving you time.
Combine the power of index investing and asset allocation with Schwab MarketTrack Portfolios®.
These four portfolios offer a choice of asset allocations with varying levels of potential risk.
Diversification – Get an all-in-one mix of investments.

Automatic rebalancing – We do the work for you.

No investment minimum
The Schwab MarketTrack Portfolios combine Fundamental Index® Tooltip Fundamental Index strategies weight each company's economic footprint using a company's fundamental measures such as adjusted sales, retained operating cash flow, and dividends plus buybacks. and market-cap index strategies Tooltip Market cap index strategies weight each company by its market capitalization—the value of a company calculated by multiplying the total number of shares by the present share price. , each with a different mix of diverse investments allowing you to choose a portfolio that best matches your risk tolerance and goals.
Get a diversified retirement portfolio with Schwab Target Date Funds.
Choose from two series of mutual funds.

Schwab Target Funds – Composed of passive and active investments from Schwab and third parties.
Schwab Target Index Funds – Composed primarily of passive index-based ETFs from Schwab.

Diversification – Get an all-in-one mix of investments.

Annual Rebalance – We do the work for you.

No investment minimum
Target date funds are designed to help you avoid one of the most common investing pitfalls—failing to adjust your portfolio for your changing financial needs over time. With Schwab Target Date Funds, Schwab Asset Management reallocates the fund's investments along what is called a "glide path," moving from more aggressive to more conservative as the target date approaches and beyond, helping to reduce risk and prepare you for retirement.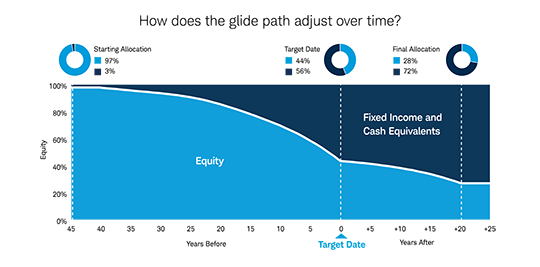 Generate income in retirement with Schwab Monthly Income Funds.
These three portfolios were created to coincide with your retirement income needs.

Please note:  The Board of Trustees of the Schwab Monthly Income Funds recently approved changes to the Funds' names and investment strategies. These changes are scheduled to be effective on or about September 12, 2022. Learn more.
Active fund management – We reallocate as needed to keep you on track.

Anticipated annual payouts

No investment minimum
Utilizing a fund-of-funds strategy, the Schwab Monthly Income Funds are designed to deliver monthly income and the opportunity for growth. Investors choose the fund that matches their asset allocation needs and let CSIM portfolio managers do the rest.
Ready to start investing
Ready to start investing?

Already have an account?
Questions? We're ready to help.