SCHWAB PRIVATE WEALTH SERVICES™
Your access to the best of Schwab
Talk to a Financial Consultant or call us at 866-855-9102.
Welcome to Schwab Private Wealth Services.
This new suite of complimentary benefits provides priority access to our highest level of professional guidance, solutions, and support to clients who have more than ten million dollars in qualifying assets at Schwab. 
You automatically qualify for this service tier and can take advantage of valuable complimentary benefits, including a dedicated Consultant, access to specialists, a wide range of tailored solutions, and pricing advantages. See program details. 
A relationship built around you.
Thinking about ways to minimize your taxes? Starting to think about a more comprehensive estate plan? Considering expansion or sale of your business? As a Schwab Private Wealth Client, you have complimentary access to a dedicated Schwab Consultant. Not only to help answer important questions but give you access to the best of Schwab. Your Consultant is committed to helping you manage your wealth and plan for your financial future for generations to come. 
Integrated banking to help maximize your wealth.
In addition to your Consultant, all Schwab Private Wealth Clients get access to a dedicated Senior Banker available through Charles Schwab Bank, who can consult on your comprehensive banking needs. They can also design personalized borrowing strategies and simplify your entire lending experience. 
 
Your relationship, your way. 
You always have access to your dedicated Consultant—in-person, over the phone, by video, or by email. You can decide on how much help you want, and you can choose what you need from the specialized and vast range of Schwab solutions.
Importantly, we are always transparent about how our Consultants are compensated—and we employ a structure that allows us to focus on your priorities.
Priority service for priority clients.
As a highly valued client, you receive the support of your Private Wealth Services Team, with seasoned professionals and fast response times. Reach out to your team for all your needs, including:
General and tax-efficient trading strategies from licensed trading specialists and answers to questions related to Schwab trading platforms. 
Service requests like opening new accounts, account updates, and completing wires and money transfers. 
Based on your goals, your team can also refer you to additional licensed professionals experienced in financial planning, managed products, and retirement planning. 
Our most experienced wealth management specialists on demand.
Everyone has unique needs, and navigating financial complexity is easier with a dedicated Schwab Consultant. Your Consultant can connect you with seasoned tax, trust, and estate planning professionals and former practicing attorneys for a complimentary conversation on how to grow and protect your legacy. You also get access to dedicated Estate and Equity Compensation Specialists, and trusted third-party professionals.
Certain services may be provided by affiliated professionals and third-party firms. Schwab does not provide specific individualized legal or tax advice. Please consult a qualified legal or tax advisor where such advice is necessary or appropriate.
Rewards and benefits designed around you.
Schwab is committed to cost-effective investing because we understand that every dollar matters to every investor. That's why we offer preferred pricing on many of our financial solutions, in addition to other available benefits you may already be using today. Pricing advantages include:   
Savings on frequent transactions.
Receive unlimited free domestic wire transfers through your brokerage accounts. 
*Entering into a Pledged Asset Line and pledging securities as collateral involve a high degree of risk. Before you decide to apply for a Pledged Asset Line, make sure you understand the risks. A Pledged Asset Line is available to all qualifying Schwab clients.
Curated insights for smarter decisions.
As a Schwab Private Wealth Client, you can rely on your Consultant to help apply our research to your particular circumstances. Together, you and your Consultant can use Schwab insights to seize opportunities in changing markets and make progress toward your goals.  
You will have access to live and virtual premium experiences that offer valuable opportunities to network with other successful investors. You'll also receive our quarterly magazine, Onward, which includes valuable articles on wealth management, including perspectives from Schwab experts like Liz Ann Sonders, Jeffrey Kleintop, and Kathy Jones.
Open the door to more specialized solutions.
Schwab offers a suite of specialized fee-based solutions to meet your personal wealth management needs. The fees for these products will be clearly explained and disclosed to you by your Consultant. 
Open the door to more specialized solutions.
Beyond the above specialized solutions, your Consultant can also recommend and discuss the full range of Schwab offerings based on your individual needs, including personal trust services; lower-cost money market Ultra Shares; exposure to cryptocurrency markets; and environmental, social and governance (ESG) investment vehicles. 
Check the background of our firm and work histories of our Financial Consultants on FINRA's BrokerCheck.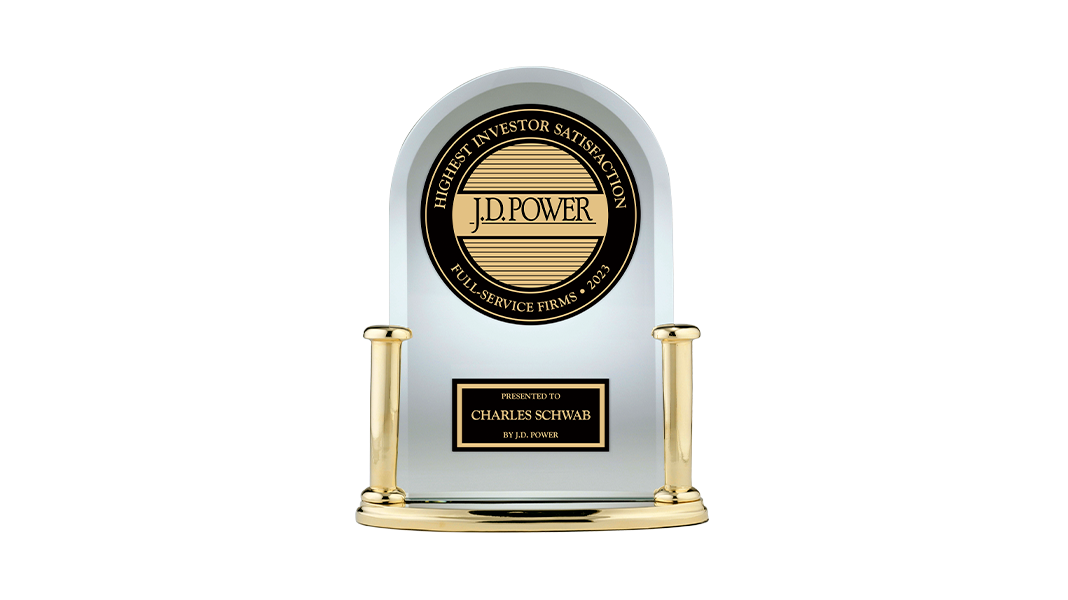 #1 in Investor Satisfaction with Full-Service Wealth Management Firms
J.D. Power 2023 U.S. Full-Service Investor Satisfaction StudySM
____
Charles Schwab received the highest score in the J.D. Power 2023 U.S. Full-Service Investor Satisfaction Study, which measures investor satisfaction with full-service investment firms. Visit jdpower.com/awards for more details. The J.D. Power 2023 U.S. Full-Service Investor Satisfaction Study is independently conducted, and the participating firms do not pay to participate. Use of study results in promotional materials is subject to a license fee.