Conviction Remains Restrained, Stocks Finish Lower
U.S. equities finished in the red, but off the lows of the day, amid a choppy session after yesterday's sharp drop amid concerns about inflation pressures weighing on corporate profit margins.
Transcript
Open new window
Transcript of the podcast:
U.S. equities finished in the red, but off the lows of the day, amid a choppy session after yesterday's sharp drop amid concerns about inflation pressures weighing on corporate profit margins. Kohl's Corporation missed earnings forecasts and lowered guidance, joining this week's disappointing results from Dow member Walmart and Target. In other equity news, Dow component Cisco Systems missed revenue forecasts and issued softer-than-expected guidance, while Amazon reportedly is reducing its hiring plans. The economic calendar suggested slowing economic activity, with leading indicators unexpectedly declining, existing home sales falling, Philadelphia manufacturing growth slowing more than expected, and jobless claims ticking higher. Treasuries rose, applying downside pressure on yields and the U.S. dollar was noticeably lower to pare a recent rally. Crude oil prices finished to the upside and gold gained ground. Europe saw broad-based pressure, but off the lows of the day, while Asia finished mostly lower, but China bucked the trend.
The Dow Jones Industrial Average fell 237 points (0.8%) to 31,253, the S&P 500 Index declined 23 points (0.6%) to 3,901, and the Nasdaq Composite shed 30 points (0.3%) to 11,388. In heavy volume, 5.0 billion shares of NYSE-listed stocks were traded, and 5.1 billion shares changed hands on the Nasdaq. WTI crude oil rose $2.85 to $109.89 per barrel. Elsewhere, the gold spot price traded $24.00 higher to $1,839.90 per ounce, and the Dollar Index was down 1.0% at 102.81.
Dow member Cisco Systems Inc. (CSCO $42) reported adjusted fiscal Q3 earnings-per-share (EPS) of $0.87, one penny above the FactSet estimate, with revenues flat year-over-year (y/y) at $12.8 billion, below the Street's forecast of $13.4 billion. CSCO said it continued to see solid demand for its technologies and its business transformation is progressing well, though COVID lockdowns in China and the war in Ukraine impacted its revenue in the quarter. The company issued Q4 guidance that was below expectations, and it lowered its full-year outlook. Shares were down over 10%.
Amazon (AMZN $2,146) is in focus after a report from Insider said the company is reducing its hiring plans for this year, with the report noting that it applies only to corporate employees, not hourly warehouse workers. Insider cited an internal email from late last month and AMZN has not commented on the report. Shares were higher.
Kohl's Corporation (KSS $45) posted adjusted Q1 EPS of $0.11, well below the forecasted $0.69, as net revenues declined 5.2% y/y to $3.5 billion, below the $3.7 billion expected. Q1 same-store sales fell 5.2% y/y, compared to the forecasted 0.5% gain. The company said following a strong start to the quarter, sales considerably weakened in April as it encountered macro headwinds related to lapping last year's stimulus and an inflationary consumer environment. KSS lowered its full-year EPS and revenue guidance. Shares overcame early losses and were higher.
The markets remained choppy after yesterday's drop and amid a six-week losing streak for the S&P 500 as they grapple with the ultimate implications of persisting inflation pressures and expectations of an aggressive Fed monetary policy tightening campaign. Schwab's Chief Investment Strategist Liz Ann Sonders notes in her latest article, Doom and Gloom: When Will It End?, how bearish sentiment is becoming a contrarian support; but for now, aggressive Fed action, tightening financial conditions, and the liquidity drain may keep downward pressure on stocks. You can follow Liz Ann on Twitter: @LizAnnSonders
Read all our market commentary, including our latest article, Stock Market Volatility: Schwab's Quick Take, on our Insights & Education page, and you can follow us on Twitter at @SchwabResearch.
Jobless claims rise, existing home sales, leading indicators, and Philly manufacturing decline
Weekly initial jobless claims (chart) came in at a level of 218,000 for the week ended May 14, versus the Bloomberg estimate calling for 200,000, and versus the prior week's downwardly-revised 197,000 level. The four-week moving average rose by 8,250 to 199,500, and continuing claims for the week ended May 7 declined by 25,000 to 1,317,000, versus estimates of 1,323,000. The four-week moving average of continuing claims decreased by 22,500 to 1,362,250.
Existing home sales decreased 2.4% month-over-month (m/m) in April to an annual rate of 5.61 million units, versus estimates of a 5.64 million rate, and March's figure was adjusted slightly lower to 5.75 million units. Contract closings fell for the third-straight month as sales in two of the four major U.S. regions declined m/m, while sales in the other two regions rose. Compared to last year, sales were lower in all regions. Sales of single-family homes and purchases of condominiums and co-ops were both lower m/m and from the prior year.
The median existing home price was up 14.8% from a year ago to a record high $391,200 and are up for 122 straight months as prices grew in each region. Unsold inventory was at a 2.2-months pace at the current sales rate, up from the from the 1.9-months pace a year earlier. National Association of Realtors Chief Economist Lawrence Yun said, "Higher home prices and sharply higher mortgage rates have reduced buyer activity." Yun added that, "It looks like more declines are imminent in the upcoming months, and we'll likely return to the pre-pandemic home sales activity after the remarkable surge over the past two years." Existing home sales account for a large majority of the home sales market and reflect contract closings instead of signings.
The Conference Board's Leading Economic Index (LEI) (chart) for April declined 0.3% m/m, below estimates of a flat reading, and following March's downwardly-revised 0.1% increase. The index recorded its second negative reading of the year as half of the ten index components declined led by consumer expectations, while building permits, jobless claims, average workweek, and ISM new orders also moved lower. Positive contributions came from the interest rate spread and credit conditions.
The Philly Fed Manufacturing Business Outlook Index (chart) fell much more than expected but remained in expansion territory (a reading above zero) for May. The index dropped to 2.6 versus estimates of a decline to 15.0 from April's 17.6 level. The softer-than-expected report came even as growth in new orders and shipments both accelerated, but employment growth decelerated and inventory expansion slowed solidly. Prices paid cooled somewhat but continued to expand at a severely elevated pace.
Treasuries were higher and yields have been choppy as of late following a recent spike as markets anticipate tighter Fed monetary policy following the early May 50 bp rate hike, and comments this week from Fed Chief Jerome Powell that reiterated an aggressive stance. Schwab's Liz Ann Sonders discusses the Fed's actions and implications in her article, 50 Ways to Leave Your Mark.
As the Fed launches a series of rate hikes to try to cool off inflation, check out Schwab's Chief Fixed Income Strategist Kathy Jones' latest article, Bond Market Reset: What's Next? and the latest offering from Schwab's Director of Fixed Income Collin Martin and Director of Fixed Income Strategy Cooper Howard titled 8 Questions on the Bond Market and Rate Hikes. Be sure to follow Kathy on Twitter: @KathyJones.
The yield on the 2-year Treasury note was down 7 bps to 2.62%, the yield on the 10-year note declined 5 bps to 2.84%, and the 30-year bond rate decreased 2 bps to 3.05%.
The week's economic calendar will close out quietly, as no reports are slated for release tomorrow.
Europe broadly lower amid festering headwinds and yesterday's U.S. rout
European equities finished broadly lower, as the markets remained volatile in the wake of yesterday's sharp drop in the U.S. as key earnings reports from the retail sector suggested inflation pressures are starting to threaten profitability. The rising inflation pressures have prompted monetary policy tightening and concerns about the implications have dampened conviction among the global markets. The skittishness comes as central banks begin to tighten amid signs of slowing economic activity, while the ongoing war in Ukraine has exacerbated inflation and economic concerns. Global bond rates have gained ground amid this backdrop and Schwab's Chief Global Investment Strategist, Jeffrey Kleintop, CFA, offers his latest commentary, Hedging Stocks Against Rising Rates, noting how investors should consider hedging the possible risk of higher interest rates with the addition of short duration stocks, a potential way to manage risk while remaining invested in the markets. You can follow Jeff on Twitter: @JeffreyKleintop. However, bond yields in the Eurozone saw some pressure today, while rates in the U.K. were little changed. Also, both the British pound and the euro gained solid ground versus the U.S. dollar, which has rallied as of late. In light economic news in the region, Eurozone construction output came in flat m/m for March, and decelerated noticeably y/y.
The U.K. FTSE 100 Index dropped 1.8%, France's CAC-40 Index decreased 1.3%, Germany's DAX Index declined 0.9%, Italy's FTSE MIB Index was 0.1% lower, Switzerland's Swiss Market Index traded 2.3% to the downside, and Spain's IBEX 35 Index was down 0.8%.
Asia mostly lower after yesterday's drop in U.S.
Stocks in Asia finished mostly lower amid the recent volatility caused by a flurry of headwinds, which was exacerbated by the sharp drop in the U.S. yesterday as inflation concerns were intensified by recent disappointing earnings results from some of the world's largest retailers. The markets also continued to grapple with tighter monetary policies across the globe, signs of slowing economic growth, a recent rally in the U.S. dollar, and the ongoing war in Ukraine. However, Chinese stocks bucked the trend, gaining modest ground following the government's pledge this week to support the Technology sector, and recent data that has shown positive developments regarding new cases outside quarantine zones. Schwab's Jeffrey Kleintop discusses in his latest article, Recession in China?, how China's economy and consumer market has likely slipped into a recession, at least by China's standards. Jeff takes a look at the short-term and long-term impacts of any extended disruption of the lockdowns on consumer spending and business output. In economic news, Japan's core machine orders for March rose much more than expected, but its export growth slowed more than anticipated. Additionally, Australia's employment change failed to accelerate as expected for April.
Japan's Nikkei 225 Index declined 1.9%, with the yen gaining ground after a recent tumble versus the U.S. dollar. However, China's Shanghai Composite Index increased 0.4%. The Hong Kong Hang Seng Index fell 2.5%, Australia's S&P/ASX 200 Index was down 1.7%, India's S&P BSE Sensex 30 Index dropped 2.6%, and South Korea's Kospi Index traded 1.3% to the downside.
Tomorrow's international economic calendar will offer PPI and CPI from Japan, PPI from Germany, retail sales from the U.K., and consumer confidence from the Eurozone.
More from Charles Schwab
Bear markets occur with some regularity. Is your portfolio ready? Get prepared with these seven investing tips.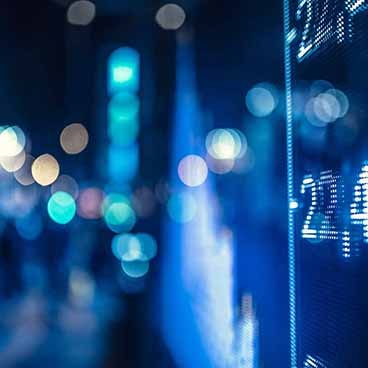 Oil markets continue its volatile ride while traders attempt to assess the fundamentals within the industry to gain insight into futures prices of the product.
U.S. equities revved higher into the close to finish mixed in the final session of a volatile week that saw some key retail sector earnings reports exacerbate inflation worries.