Trading software that helps simplify advanced trading.
StreetSmart Edge® is our premier trading platform that's designed to align and optimize its tools for your strategy. 
Watch a demo of StreetSmart Edge®
Opens in popup

Read transcript
Schwab's premier trading platform StreetSmart Edge was designed to think like a trader
Throughout this demo, you'll see what it's like to use StreetSmart Edge to check your positions, assess the markets, find and analyze trade ideas, and enter orders. We'll start by taking a look at a customized account layout focused primarily on tracking your portfolio. You can review your current balances and buying power in Account Details. In the Positions tab, you can see position information down to individual lot details, as well as realized gain/loss for your closed positions.
Now let's see how to check out what's happening in the markets.
We'll start with Streaming News, which provides a continually updated news feed from sources such as Briefing.com, Reuters, and others. You can also watch a commercial-free live stream of the CNBC broadcast right on your desktop. Streaming, interactive charts provide a rich view into the markets and indices. You can adjust the timeframe, or apply a range of technical analysis tools. Here, you see that the NASDAQ has had a rally today. Using Screener Plus's predefined screener of top gainers in the NASDAQ, it looks like ZL Communications in telecom is on the rise. We'll add ZL Communications to a watchlist, which we'll explore further in a bit.
Now it's time to further research ZL Communications.
We'll start with fundamental analysis. The fundamentals of a security are easily viewed by right clicking on the security's name from the watchlist. This brings up the Research tool, populated with the information for that particular stock. The earnings tab is an intuitive snapshot of the security's most recent earnings report. A glance at ZL's Earnings Per Share indicates that the stock could be currently oversold. Reviewing Schwab and third-party analyst ratings, it looks like ZL also has a five-star rating from Morningstar Equity Research. You can also research additional corporate strength metrics, such as revenue, cashflow, or earnings per share.
Now let's review the technicals for ZL Communications.
To determine where it is trading relative to its support and resistance, choose from a variety of technical studies built into StreetSmart Edge, such as Simple Moving Average and Bollinger Bands, which we see here. There are strong indicators that ZL Communications may have broken through its resistance zone and is now in an uptrend. You can also access additional third-party technical analysis tools to help you assess potential entry and exit opportunities, including chart pattern recognition from Recognia.
Now that we've identified and analyzed ZL Communications with both fundamentals and technicals, we're ready to make a trade.
Start by loading the symbol into the All-In-One Trade Tool. This powerful order entry window allows you to define the parameters of the full trade from entry to exit — for stocks, ETFs, and single- or multi-leg option orders. Based on the analysis, you're going to buy it now, when it's appeared to have just broken through its prior resistance. Once the parameters are set, review the order and confirm the trade. You're now trading ZL Communications!
Along with powerful trading tools, Schwab provides you with extensive insight, robust educational resources, and personalized service that can help you become a better trader. Make the most of your trading when you open a Schwab account today.

Close
Experience the platform that thinks like a trader.
The platform and tools are designed to make sophisticated technology approachable. 
Linked tools work together to make finding, evaluating, and placing trades quicker and easier. 
Layouts and tools are flexible and can grow with you as your skills and strategies advance.
 
Power every step of your trade with advanced features and designs.
Find trade opportunities with custom screeners, watchlists, and high/low tools. 
Research a trade using built-in fundamental and technical tools plus advanced charting.
Build, edit, and place trade orders quickly with the All-in-One Trade Ticket®.
Monitor orders, positions, and buying power at a glance, and set up custom alerts.
 
Customize your platform to fit the way you trade.
Create and edit multiple layouts with tool combinations for specific strategies.
Toggle individual tool data and features on or off and change fonts or colors.
Change the scale of a layout or drag to a different screen when using multiple monitors.
Access on your desktop as trading software or over the web using the cloud version.
Powerful options tools help you execute your ideas, including 3- and 4-leg strategies.
Quickly find bullish, bearish, and neutral trade ideas with our proprietary Idea Hub™.
View options chains, Greeks, watchlists, and options "top 10" with streaming updates.
Analyze potential trades with an interactive Trade & Probability calculator.
Automatically build orders from options chains and place auto-adjusting

Tooltip

.
Trade futures? Learn more about Schwab's futures research and trading tools.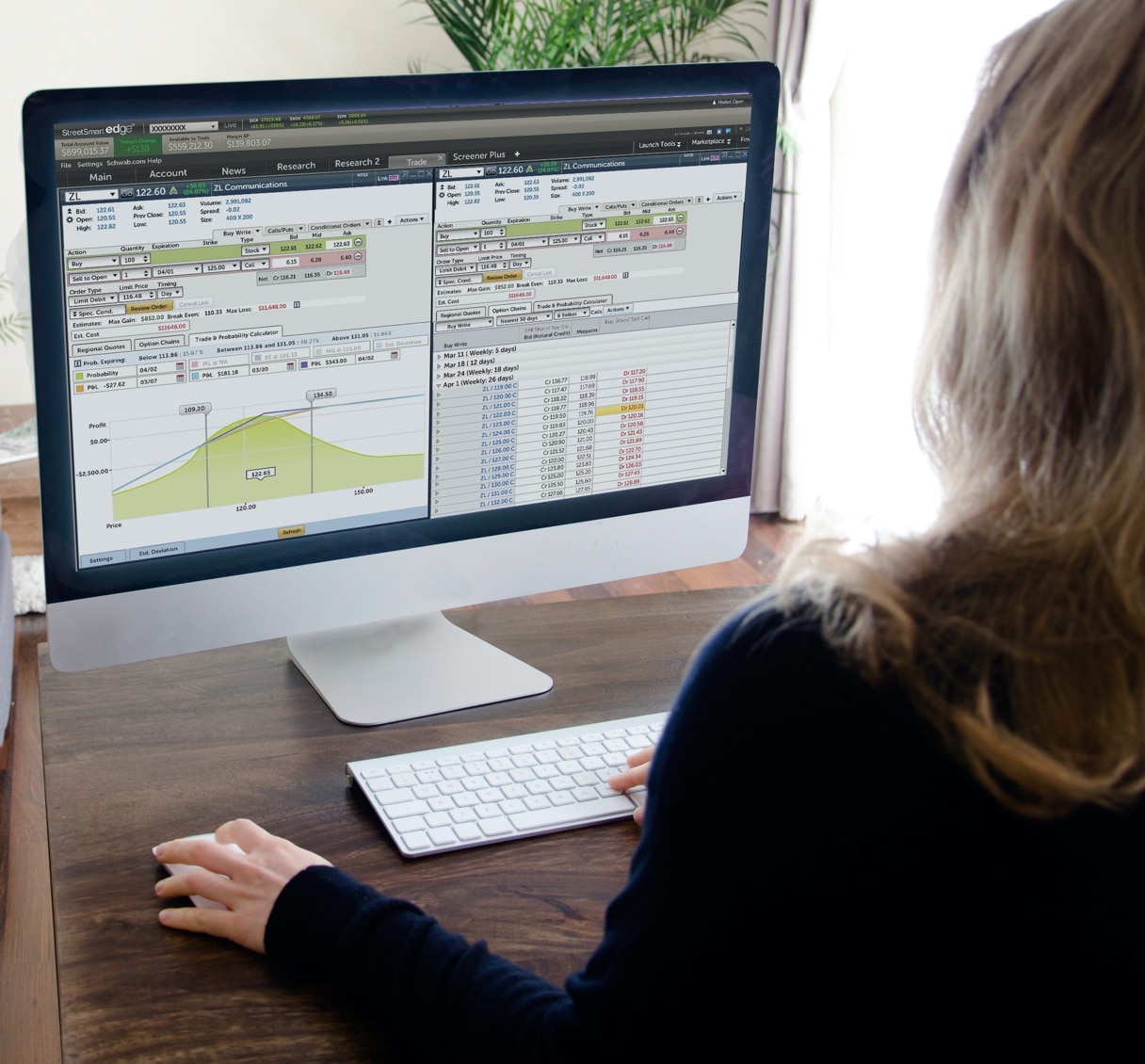 View system requirements
System requirements
System requirements for Windows® users:
 Component
Minimum
Recommended
Operating System
Windows 8.1 or later

(Touch screens and tablets not certified)

Windows 10 or later

(Touch screens and tablets not certified)

CPU
Intel Core i5 or higher
Intel Core i7/AMD FX 8150 or faster
Memory
 2 GB RAM or higher
 4 GB RAM or higher
Disk Space
200 MB hard drive space
200 MB hard drive space
Graphics
 512 MB Video card or higher

(External USB video devices are not supported)

1 GB Video card or higher

(External USB video devices are not supported)

Internet Connection / Download Speed
 10+ Mbps

(Wireless not recommended)

 15+ Mbps

(Wireless not recommended)

StreetSmart Edge in the Cloud - System requirements for Windows and Mac users:
 Component
Minimum
Recommended
Operating System
Windows 8.1 or later

Windows 10 or later
Browser
Internet Explorer

Safari

Firefox

Internet Explorer

Safari

Firefox

Other
You may be required to install a Citrix® application to provide the secure connection to Schwab servers.
You may be required to install a Citrix® application to provide the secure connection to Schwab servers.
Internet Connection (download speed)
5 Mbps

(Wireless not recommended)

 10+ Mbps

(Wireless not recommended)
Schwab ranked "Best in Class" for Trading Platforms and Tools by Stockbrokers.com.
Experience the better place for traders.
$0 online listed equity commissions¹

Get commission-free online trades plus $0.65 per-contract fees for options.

Award-winning trade reliability

Quality order executions provide additional value for your trading.

Support from trading specialists

Get real-time trade analysis and decision support from experienced professionals.

Market research and trading insights

Sharpen your instincts with premium research from Schwab and third parties.
Ready to start trading?
Ready to start trading?
Have questions? We're here to help.