ETF Trading Services & Support
ETF TRADING
Diversify and seize market opportunities.
Schwab Trading Services
Schwab's large ETF selection, coverage, and toolsets make ETF trading a valuable complement to your trading portfolio.
Exchange Traded Funds (ETFs) are marketable securities that most commonly track an index, commodity, bond, or basket of assets similar to mutual funds. They trade like stocks on an exchange with fluctuating value during the day and traders can use ETFs to diversify their portfolio or gain exposure to a specific segment of the market.
Schwab is a trader's go-to for ETF trading, with a robust mix of commission-free ETFs, powerful research and trading tools, plus support and guidance for traders.
Commission Free ETF Trading1
Schwab ETF OneSource™ offers over commission-free ETFs from leading providers. Reduce your trading cost with no trade commissions and no early redemption fees.
ETF Trading Tools and Platforms
Schwab provides advanced yet intuitive-to-use ETF trading resources across all of our trading platforms. Plus access powerful, built-in ETF screeners to hone in on fund choices for the strategy you're interested in.
Excellent value on ETFs
Trade all other ETFs online for just $4.95 commission.
Get Started
Open a Schwab Trading Services account online.
Call us at 888-245-6864
Fuel your ETF trading with these advanced tools.
+
Find ETFs that fit
your criteria
+
ETF Screeners
Help find emerging opportunities with predefined or customized screeners with up to 70 criteria.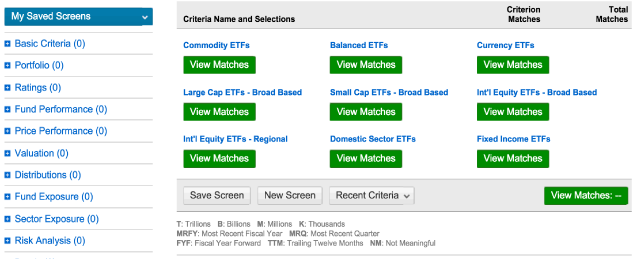 +
Easily spot pros
and cons
+
Compare ETFs
Create side-by-side scorecards comparing diversification, top ten holdings, and risk of multiple ETFs.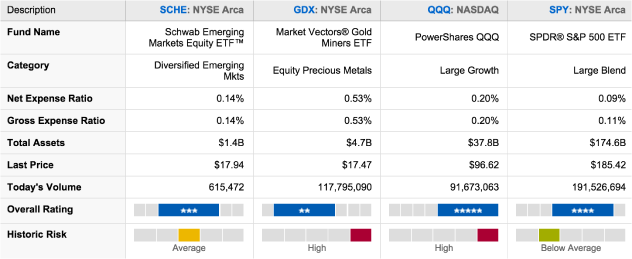 +
Research interactive
charts
+
Charting
Analyze price trends with predefined "quick charts" or customize charts using dozens of indicators.
+
Research a specific
ETF in detail
+
ETF Report Card
Get a comprehensive report on any ETF with the key data you need, such as Morningstar ratings, historical price performance, top ten holdings and more.
+
Jumpstart your search
for ETFs
+
Michael Iachini is an employee of Charles Schwab Investment Advisory, Inc. ("CSIA"). Charles Schwab Investment Advisory, Inc. ("CSIA") is an affiliate of Charles Schwab & Co., Inc. ("Schwab").

1. Conditions Apply: Trades in ETFs available through Schwab ETF OneSource™ (including Schwab ETFs™) are available without commissions when placed online in a Schwab account. Service charges apply for trade orders placed through a broker ($25) or by automated phone ($5). An exchange processing fee applies to sell transactions. Certain types of Schwab ETF OneSource transactions are not eligible for the commission waiver, such as short sells and buys to cover (not including Schwab ETFs). Schwab reserves the right to change the ETFs we make available without commissions. All ETFs are subject to management fees and expenses. Please see Charles Schwab pricing guide for additional information.
Investors should consider carefully information contained in the prospectus, including investment objectives, risks, charges and expenses. You can request a prospectus by visiting www.schwabetfs.com or calling Schwab at 800-435-4000. Please read the prospectus carefully before investing.
Charles Schwab & Co., Inc. receives remuneration from certain third-party ETF companies participating in Schwab ETF OneSource™ for record keeping, shareholder services and other administrative services, including program development and maintenance. Participating firms also may make additional payments for other ETF-related opportunities, such as education and events and reporting.

Third-party Schwab ETF OneSource shares purchased may not be immediately marginable at Schwab. Investment returns will fluctuate and are subject to market volatility, so that an investor's shares, when redeemed or sold, may be worth more or less than their original cost. Unlike mutual funds, shares of ETFs are not individually redeemable directly with the ETF. Shares are bought and sold at market price, which may be higher or lower than the net asset value (NAV).

Schwab Trading Services™ includes access to StreetSmart® trading platforms, the Schwab Trading Community, and Schwab trading specialists (a Schwab brokerage account is required). There are no fees to use Schwab Trading Services. Other account fees, optional data fees, fund expenses, and brokerage commissions may apply. Schwab reserves the right to restrict or modify access at any time. Schwab brokerage account online applications that have the "Schwab Trading Services" box checked will automatically be enrolled. For questions, call 888-245-6864 to speak to a Schwab Trading Services representative.