Exchange-traded funds (ETFs)
Hello-3.  An ETF, or exchange traded fund, is a marketable security that tracks an index, commodities, bonds, or a basket of assets like an index fund. Unlike mutual funds, an ETF trades like a stock on an exchange. ETFs experience price changes throughout the day as they are bought and sold.
Save on ETFs.
Schwab ETF OneSource™ offers over 200 commission-free ETFs from leading providers including Charles Schwab Investment Management, State Street SPDR®, Guggenheim Investments, PowerShares, ETF Securities, United States Commodity Funds, Direxion Investments, Global X Management Company, LLC, IndexIQ, ProShares, WisdomTree, PIMCO, ALPS Advisors, Inc. and J.P. Morgan Asset Management, Inc., Deutsche Asset Management and John Hancock Investments.  
Schwab ETFs™ include both Market-Cap Index ETFs and Fundamental Index® ETFs, two different ETF methodologies that can work well together. For broader diversification, consider using both when building your portfolio.
Research and find ETFs.
Compare and select ETFs using our extensive ETF research and helpful screeners.
See our experts' top ETF picks with the ETF Select List®.
Use our ETF Portfolio Builder® to create a diversified ETF portfolio based on your selected risk profile.
Consider a professionally managed ETF portfolio.
Get professional advice at a competitive price with Schwab Managed Portfolios™—ETFs, a broadly diversified portfolio of ETFs. Or learn more about our professionally managed ETF strategies from Windhaven®.
Ready to get started?
Need help? Call 800-435-4000.
Play Video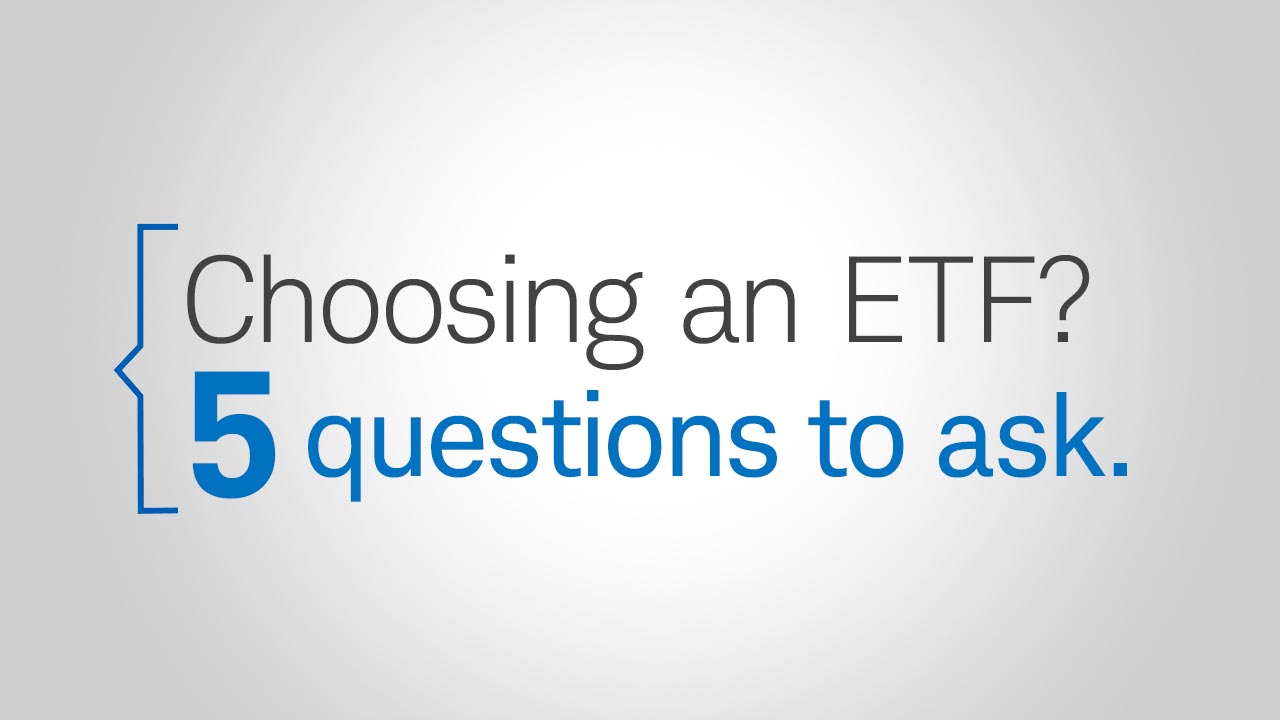 Want to learn more about choosing an ETF?
Here are the top five questions to ask yourself.
Learn More About Choosing an ETF
So you're thinking about investing in an exchanged-traded fund.  You've decided on the asset class you want to invest in, and you found a few ETFs that could be right for your portfolio, but how do you know which of those ETFs is the right ETF for you?  Start by asking yourself these five important questions about any ETF you're considering.  Let's take them one-by-one. 

First, what's the expense ratio?  When you're choosing an ETF cost is an important factor.  The expense ratio is the percentage of fund assets that are deducted every year to cover management fees.  Check to make sure that your ETF has an expense ratio that's low compared to other funds in the same category. 
Question 2:  What will you pay in trade commission?  Trade commission is the second part of the cost equation.  It's the fee you pay every time you buy or sell an ETF.  Look for a low commission or no commission at all, if possible. 
Question 3:  What's the bid/ask spread?  The bid/ask spread is another cost.  This is the difference between the ETF's bid price, which is the price a buyer is willing to pay for a share, and its ask price, which is the price a seller is willing to accept for a share.  Often, the more an ETF is traded, the smaller the bid/ask spread, and the smaller the bid/ask spread, the more of your money goes to the actual investment, which is better for you.  Look for a spread of just a few pennies.
Question 4:  What are the fund's total assets under management?  You've considered the cost of your ETF.  Now, look at the quality.  Assets under management refers to the amount of money that's already been invested in the ETF.  It's a pretty good indicator of the fund's viability.  Schwab's experts prefer ETFs that have at least $20 million in assets, and, preferably, much more. In general, the more assets under management, the better.
Question 5:  How do the ETF's returns compare to its benchmarks' returns?  What you want to see is the ETFs performance tracking closely to the performance of its benchmark over time.  If there are significant differences between the two sets of returns, it could mean that you're looking at a potentially riskier investment.
So those are our five questions.  Let's see how asking them can help you decide between two similar ETFs from the same asset class.  We'll take two hypothetical ETFs and ask what's the expense ratio, the trade commission, the bid/ask spread, what are the assets under management, and how well do its returns track to the benchmark?  While this is a simple example, working through these five questions really can help you see which ETF might be a better pick. 
Ready to find the ETF that's right for your portfolio?  Schwab's ETF evaluation tools are a great place to start.  You'll find them at Schwab.com/ETFTools.  And if you need help as you choose the right ETF for you, just call us at 877-769-8003.