Election 2020 from WashingtonWise
Listen as Mike Townsend and Liz Ann Sonders discuss the implications of the 2020 election.
Transcript
Open new window
Transcript of the podcast:
MARK RIEPE: Some investors are more active.
By that I mean they frequently make changes to their portfolio as they try to anticipate short-term price movements ahead of time.
Others take a longer-term perspective and try to capitalize only on long-term trends.
One of the challenges of the short-term, active approach is that it helps to be able to predict events ahead of time.
But it also requires you to successfully predict how markets will react to those events.
That's harder to do than it looks.
And nothing illustrates that difficulty more than when the world of investing intersects with the world of politics.
We've talked before on Financial Decoder about the difficulties associated with making forecasts, and trying to capitalize on elections requires two forecasts.
First, who's going to win, and second, how will the markets react?
And the election cycle we just experienced in 2020 is a vivid example of these complexities.
My name is Mark Riepe, and this is Financial Decoder. On this podcast, we normally start with a discussion of the cognitive and emotional biases associated with investing.
The good news is that we've already done an episode on these issues and how it pertains to Washington and your portfolio.
Mike Townsend was my guest on that episode, and he now has his own podcast, WashingtonWise.
Here's the most recent episode from his podcast, where he and Liz Ann Sonders, who's also been a guest on this podcast, talk about the implications of the 2020 election.
It's a great episode and I'm sure you'll enjoy it as much as I did.
MIKE TOWNSEND: With Election Day 2020 behind us, it's easy to get lost in the numbers.
14 billion—that's an estimate of the total cost of the 2020 election, according to the Center for Responsive Politics.
6.6 billion—that's the estimate for spending on the presidential race alone.
150 million—the record number of Americans who voted in this election, a number that some experts say could get close to 160 million by the time every vote is counted.
76.4 million—that's the number of votes won by Joe Biden so far, the most by any presidential candidate in our nation's history.
71.6 million is the number of votes won by Donald Trump, the second most by any candidate in history.
They are numbers that boggle the mind—some in good ways, like the number of people who voted this year, some in more troubling ways, like the amount spent on the campaign itself.
But the number that really boggles the mind, the number that has felt like it has receded too far into the background in the last few weeks, is 238,235. That's the number of Americans who have died of the novel coronavirus disease known as COVID-19 as of midnight on November 10.
Finally, this week there was some positive news about a possible vaccine, and for the first time in a long time a sense that there may actually be light at the end of that tunnel.
Welcome to WashingtonWise, an original podcast from Charles Schwab. I'm your host, Mike Townsend, and on this show, our goal is to cut through the noise and the nonsense of the nation's capital and help investors figure out what's really worth paying attention to.
On today's episode, I talk with my colleague Liz Ann Sonders, Schwab's chief investment strategist, about how the market is processing the election results, what to expect for the rest of the year, and what a new president in 2021 could mean for the markets and investors.
But first, let's begin with a couple of updates on some of the topics making headlines right now.
And of course we begin with the election results, which appear to have elevated Joe Biden to the White House nearly 50 years after his political career began. There are votes still to be counted, possible recounts ahead, and a barrage of legal challenges still to be sorted out. But it doesn't appear that any of the maneuvering is likely to change the outcome.
With several states still finalizing their results as of November 10, President-elect Biden could end up with 306 electoral votes—the exact number that President Trump captured four years ago. Biden's success in restoring the so-called "blue wall"—the northern states of Michigan, Pennsylvania, and Wisconsin that went unexpectedly to Trump in 2016 and propelled him to the White House—combined with his ability to narrowly flip Georgia and Arizona from red to blue were the difference. But it was a narrow enough victory that it took the major news outlets four days to declare Biden the winner—and President Trump has yet to concede.
It could be another week or two before we have the final results, and recounts in Georgia and Wisconsin remain a possibility. And the numerous legal challenges will continue to work their way through the system.
And that's OK—that's how this process is supposed to work. The key dates ahead are December 8, which is the deadline for states to certify their presidential results and submit their slate of electors to the Electoral College, and December 14, which is the date the Electoral College actually meets and electors cast their ballots. States will be focused on making sure their results are finalized by then.
But the election is far from over in another important way: We still don't know which party will control the U.S. Senate. Democrats did not fare as well as many pundits expected in Senate races, and Republicans look poised to retain a narrow majority in the chamber.
The party looks to be holding a 50-48 advantage right now. But the election is definitely not over in Georgia, where both Senate races are headed to a runoff election in January.
Georgia had a unique set of circumstances. First, both of its senators were on the ballot this year. Senator David Perdue, a Republican, was running for re-election against Democrat Joel Ossoff.
Senator Kelly Loeffler, also a Republican, was appointed to her seat after one of Georgia's senators resigned at the end of 2019 due to health reasons. So this year, Loeffler was running in a special election for the remaining two years of that unexpired term, against a wide-open field of 20 candidates.
In Georgia, however, the law requires a candidate for the Senate to get more than 50% of the vote in order to be declared the winner. If no candidate crosses that threshold, then the top two vote-getters go on to a runoff election. And that is exactly what happened. With third-party and independent candidates involved, no candidate in either race crossed the 50% line.
That means that Perdue and Ossoff will face off again in the runoff for Perdue's seat, while Loeffler will face a challenge from Democrat Raphael Warnock. Voters in Georgia will pick their senators on January 5.
As it happens, if Democrats win both of those races, they will forge a 50-50 tie in the Senate—and Senate rules stipulate that the vice president can break a 50-50 tie. Vice President-elect Kamala Harris would give Democrats the narrowest of majorities if the Democrats win both seats. But if Republicans win even one of the two races, they will retain the Senate majority for two more years.
It's not hyperbole to say that these two runoff elections in Georgia will go a long way toward determining the course of the nation over the next two years. That's because they will determine whether President-elect Biden has majorities in both the House and the Senate that will allow him to pursue an aggressive policy agenda in his first two years as president, or whether he will be facing a Republican-controlled Senate that will force him to curtail his policy ambitions and work to find smaller areas of consensus.
We'll focus more on these unprecedented circumstances in an upcoming episode of this podcast. For now, get ready for the entire political universe to focus on Georgia for the next eight weeks.
Meanwhile, amidst all of this post-election uncertainty, the Senate returned to Washington this week for what is known as a "lame duck" session of Congress. The full House is slated to return next week. And that means the debate over an economic stimulus package has resumed.
As we all know, House Speaker Nancy Pelosi and Treasury Secretary Steven Mnuchin spent weeks negotiating an aid package prior to the election without success. The two seemed to be inching slowly towards a deal of around $2 trillion—less than the House Democrats liked, but a significant increase from the $1 trillion that was the starting point for the White House.
Senate Majority Leader Mitch McConnell was mostly on the sidelines of those negotiations, as a significant number of his Senate Republican colleagues showed little interest in supporting another round of stimulus of any size.
But after the election, McConnell changed his tune, saying that economic stimulus was a top priority for the post-election session of Congress and that he hoped a deal could be struck before the end of the year.
So look for McConnell to play a more visible role in the negotiations in the days ahead, though he continues to champion a much smaller aid package than Democrats believe is warranted. An agreement seems unlikely if that remains the case, as Pelosi and other Democratic leaders have been unwilling so far to accept a smaller deal.
Now the market appears to continue to believe that an economic stimulus package is coming relatively soon, and I think that remains the correct position. The questions remain when and how much. Expect a lot of back-and-forth in the weeks ahead, and I can't rule out a deal before the end of the year. But it's more likely that a stimulus package will have to wait until early 2021, when a new Congress and a new president occupy the nation's capital.
And there's one other piece of business the markets will be watching over the next few weeks: The current agreement to fund federal government operations expires on December 11. If Congress doesn't agree to an extension of funding by then, a government shutdown would begin on December 12.
This goes back to the end of the government's fiscal year on September 30. Each year, Congress is supposed to pass the 12 appropriations bills that allocate funds to every government agency and federal program by the time the new fiscal year begins on October 1. A combination of the pandemic and election-year politics meant that Congress did not pass any of those bills by the September 30 deadline. To avoid a government shutdown prior to the election, Congress agreed to a temporary extension of government funding through December 11.
Now Congress faces the new deadline. There's talk on Capitol Hill about packaging all 12 appropriations bills into one giant piece of legislation, but I'm skeptical that such a deal can come together and pass both the House and Senate in the next four weeks.
A much more likely outcome is that Congress simply does what it does best—kick the can down the road a bit. Don't be surprised if lawmakers agree to another temporary extension, perhaps until February, that avoids a shutdown and leaves the tough decisions in the hands of the new Congress.
Uncertainty around how and when Congress will address the government funding issue could produce some market volatility as that December 11 deadline approaches, so markets will be keeping an eye on this issue.
On my Deeper Dive this week, I want to look at how the markets have reacted to the election so far and what investors should be thinking about as they look to the rest of the year and 2021.
I'm delighted to be joined by Liz Ann Sonders, Schwab's chief investment strategist. Liz Ann has been with Schwab for more than 20 years and is a familiar face to millions of investors through her regular appearances on CNBC, Bloomberg, and other financial networks.
Liz Ann, I know the election season has been crazy for you. So thanks so much for taking the time to join me today.
LIZ ANN SONDERS: My pleasure. It's obviously been crazy for you, too, Mike. So it's… I'm always honored to have this opportunity to have a chat with you.
MIKE: Well, good. Let's get started. Liz Ann, I want to focus on the election in our conversation today, but I think we need to start with the surprise news from the beginning of this week, when Pfizer announced that it had seen tremendous success in clinical trials for its COVID-19 vaccine. What was your reaction to the news and to how the market responded to the news?
LIZ ANN: Well, you know, what's interesting, of course, about the timing of it is because the election wasn't decided until the weekend, it was impossible to sort of parse out—in terms of yesterday's action, today's action, the first two days' action—between the Pfizer news on the vaccine and the election news. So I think what you saw heading into the election and during the election week was maybe a market rallying on the assumption that it was not going to be a long drawn-out process, but also there were some technical and sentiment reasons for the rebound that we saw. But, clearly, in the immediate aftermath of the vaccine announcement, we saw that massive improvement in the pre-open, and we had an incredibly strong day and then follow-up thereafter.
So it's unquestionably good news, and I think the implications have been a kind of a pushing forward or pushing closer the improvement in the economy. The fact that it was 90% effective was well above the 60 to 70% effectiveness that, I think, the consensus believed would be seen as great news. So you got the time factor, you got the effectiveness factor, and then, of course, you know, immediately following it a day later, we got similarly good news from Lilly on the antibody treatment, also with 90% effectiveness. So I think this really did change the landscape in terms of what it means for the economy, the outlook as we head into 2021 for maybe a pickup in growth sooner than expected.
The last thing I'd say, though, is … the analogy I've been using is that an announcement like that on the vaccine is sort of the light at the end of the tunnel. The problem is we're still in the tunnel, and the virus will dictate how dark that tunnel gets before we really start to approach this light associated with the vaccine.
MIKE: Well, even before the vaccine news, the market saw sharp upward movement last week, something that started the day before the election and ended up resulting in the S&P 500® increasing 7.3% during the week of the election. So was that just anticipation that there wouldn't be an extended outcome or that there's going to be some kind of return to normalcy in Washington? What was the driver behind that great week?
LIZ ANN: Well, I'll give you the real answer at the end of my answer, but to the extent you want to try to pinpoint something election-related to the rally, which I don't think was the driving force, you could point to the fact that there was declining likelihood of a long protracted period of indecision. Also, in the so-called betting markets—PredictIt, is probably the most well-known of those sites—where gamblers, betters, investors can actually wage on, and then make investments in, various outcomes, you had seen a significant widening out in favor of Biden. And some thought that given the focus that the market has had on the necessity of fiscal relief, that under what was assumed heading into the election that there was some likelihood of a "blue wave," that not only would we get fiscal relief, it would probably be of a significant size.
Now, of course, as we went throughout the week, we didn't officially know what happened with the election. But I think the real answer to what happened in that week was more about what had happened in the week or so prior to that, and really you can go back to the early September timeframe. And although the threads of kind of macro forces, be it election uncertainty, uncertainty with regard to fiscal relief, the trajectory of the virus, those have been kind of narratives for many months, then nothing really changed there. But what we started to see at the all-time highs initially reached in early September was you went through these periods where speculative froth just went into the stratosphere. Sentiment got tipped way too far in the direction of optimism—technically overbought. So you had technical and sentiments working against the market. That set up what became these sort of pullback periods. We saw a three-week one in September. We saw the one in mid-October. That, then, brought the market fairly quickly into oversold technical territory. You saw a little bit of that speculative fervor washed out, establishing kind of the basis for a subsequent rally.
So you can easily point to catalysts in one direction or another, but I really think the force was about sentiment and technicals getting stretched in each direction. So I think we might have seen that kind of snapback rally, regardless of what was going on in the election, or if it didn't happen to be an election week.
MIKE: Well, let's talk about what you anticipate for the remainder of 2020. Before the election, there seemed to be a lot of worry that we would be in for an extended period of market volatility and choppiness, particularly if the election was in dispute, or if the candidates stoked doubt about the results. So far, though, the market has not seemed overly concerned with the president's reaction. Is that a product of how unlikely it seems to be that the outcome will be overturned, and does this foreshadow a relatively calm rest of the year?
LIZ ANN: So I do think that if there is a market calculus associated with what the ultimate outcome will be, it's not putting a heavy percentage likelihood on the election results being overturned. There could still be some bouts of volatility associated with the runoff elections in Georgia, given that I think the market broadly and historically tends to be fairly comfortable with the checks and balances of a divided Congress. So I think if we were to move outside of what the consensus is, that probably, maybe at least one of those goes in favor of the GOP and you kind of keep that divided Congress, maybe that could be a spark for volatility. But I really think what we're seeing in terms of market action and could persist has more to do with the change in perception around the trajectory of the economy, given a vaccine.
Now, that doesn't prevent us from having another dip in economic activity, because we're still in the midst of the virus raging. And, actually, for some people, they may opt to be more cautious now. You know, we know there's been exhaustion relative to social distancing and mask wearing, but now that there's sort of a vaccine in our sights, I've seen surveys that suggest those that are on the riskier end of the spectrum might say, "You know what? I can handle this a bit longer," whether it's avoiding large crowds, not going out to dinner, all the things we know. So you could actually see the vaccine result in a little bit more of a virus-related dip in the near term. But I think that is going to be the more powerful macro driver for the behavior of the stock market, unless what happens election-related is well outside the bands of what has developed as consensus.
MIKE: Well, Liz Ann, one of the things that we've seen in the past week is something we see every four years, and that is these sweeping pronouncements that the market likes a particular political configuration in Washington better than some other configuration. And in this instance, we saw a lot of reactions to the potential Democratic president with a split Congress outcome. Now, I know these kinds of simplifications drive you crazy. So can you clarify, how has the market performed in the past with different political configurations, and perhaps, more importantly, does it matter?
LIZ ANN: The real answer is sort of the finale of your question, and the answer is not really. But I think it's gamesmanship that happens during an election season. And it's easy to look back at history at the data, and it is factually the case that the best performance, historically, for the stock market going back to 1900, has been when there's a Democratic president and a split Congress, which at this stage in the game appears to be the most likely outcome of this election. But shame on anybody that leaves it at that, because we've only had that outcome over one span of time, and it was only during one presidential administration, that was the Obama administration. So following the 2010 midterm elections and effectively from January 2011 to January 2015, only a four-year period, the market had more than a 10% annualized gain during that period of time. First of all, I'd argue that there's always, then and any time, a lot more things that impact what the stock market is going to do, but that was also only 3.4% of that entire period in history. So talk about a small sample size.
If you do look historically at the two most common outcomes of the makeup of the party in the White House and whether or not you have a split Congress or not, the two most common outcomes back to 1900 were actually full control by the Democrats or full control by the Republicans. And the annualized return during those, there's only a 0.1 difference—7.2% annualized return when it was all Democrats, 7.3% annualized return when it was all Republicans.
The bottom line is there are so many factors that impact what the market is going to do. Don't trade off of and make long-term investment decisions based on whether the White House is figuratively painted red or blue, or what the makeup of Congress is. It comes into play, but it should not be the basis for investment decision-making.
MIKE: Well, Liz Ann, it won't surprise you to know that I use those data points going back to 1900 with the Dow in my presentations, and I often worry that I'm talking myself out of a job because I go through a whole presentation and say, you know, "Here's everything that's going on in Washington," and then conclude by saying none of it matters to the markets. So—
LIZ ANN: None of it matters, right! Well, your voice is an important one, Mike, to share why it shouldn't matter to investors even if the knowledge and the education and the information is still valuable, which yours of course always is.
MIKE: Well, let's talk about economic stimulus for just a minute. The market has clearly been anticipating more economic stimulus for months now, but it hasn't happened. And, now, we have leaders of both parties saying maybe they'll pass the stimulus bill during this lame-duck session of Congress, maybe it'll be in early 2021. What do you think is the market reaction if we don't get a stimulus in the next few weeks versus if we do? And maybe a second part of that question is, does the size of an eventual compromise, which may be going down as this split Congress takes shape, does the market care about the size of fiscal stimulus?
LIZ ANN: I would say fiscal relief, its size, the details, probably mattered a little bit more to the market, to the economy, prior to the Pfizer news on the vaccine. Now, that news doesn't solve our problem in the very near-term, but it at least in terms of maybe individuals trying to sort of gauge their ability to hang on until the economy improves and provides an opportunity to get back to work again, find a job again, small businesses that might still be hanging on by a thread do still need whatever might be provided in a fiscal relief package in order to sort of survive until that point. Given what we've seen in terms of the buildup in savings on the part of the household sector and some of the facilities—you know, Fed and fiscal—that are still available for corporations to avail themselves of, maybe that is sufficient to not eliminate the need by any means of fiscal relief but maybe have it be less of a volatility driver as a function of either size or its content.
And as you know, Mike, I've heard narratives on both sides, and I'm not an insider in Washington, so I have I have no perspective on which sort of side of this argument is going to win. But I've heard arguments made that, well, both sides are going to dig in their heels, so there's limited likelihood of getting something done in the lame-duck session, but then I've heard others say, well, the election is over now, so there's less need for posturing on the part of both sides, particularly by members that were up for re-election. There is a bipartisan support for the need for this—maybe there's more willingness to actually just sit down and negotiate. So I have sympathy with sort of every extreme around what could possibly happen during a lame-duck session. I think if absolutely nothing gets done, and we continue to see the same kind of positioning and posturing and infighting that existed pre-election, I do think that that would be a bit disheartening. Whether it would be a major negative for the stock market, I'm not quite sure. I do really think that some fiscal relief is still needed. We just quite haven't finished building the bridge over the chasm created by the virus. And I think the Fed has been right—not in saying that they're out of ammunition, they don't have tools—they continue to have plenty of tools, but what's needed right now at this stage in the game is more targeted relief that is better done on the fiscal side than on the monetary side.
MIKE: Yeah, Liz Ann, I totally agree with your comments on the lame-duck session. They are notoriously hard to predict for exactly the reason that you're outlining, which is that, post-election, suddenly you have people who are retiring or people who have lost their elections are still here, and suddenly their long-held beliefs tend to get more flexible. So, Liz Ann, let's wrap up by talking about 2021 in a little more depth. What are you looking at as you look out for your market outlook for the year ahead? And what role does that Georgia special election play in your thinking about the market for 2021, given that the universe of policy, you know, expectations depending on that outcome are pretty different depending on which side wins?
LIZ ANN: Right. So I think when I think about the economic outlook versus the policy outlook, the economic outlook, I continue to think will be primarily driven by, in the near-term, the trajectory of the virus, but in the still near-ish-term, medium-term, the effectiveness, in reality, of the vaccine. We know what we know now in terms of 90% effectiveness, but, of course, there's the availability, and how you prioritize who gets it, and all those other factors that we're still going to have to contend with. So I think the outlook for the economy hinges on those things. And, again, the potential for fiscal relief. I do think we are in the midst of a bit of a secular shift in terms of the drivers of economic growth, possibly away from being so dominant, both on the consumer spending side, but also on the services side of the economy, and I think we may be shifting. We've already seen it in sort of the goods versus services. The recovery in goods consumption is way beyond where we were pre-pandemic, and we still have a lot of clawing back to do on the services side. But I also think we may be morphing into more of an investment-driven economy—healthcare investments, housing investments—and that might not be a bad thing. There's still some sort of destruction along the way from a labor market perspective, but I think that's a positive.
In terms of the policy outlook—that, I think, to a large degree hinges on what happens on January 5, even as we discussed that maybe it's not a big swing in terms of the extremes of the policy platform, just having some certainty around some of the policies that are most impactful for investors, specifically, personal tax rates, but also for things like corporate earnings, which, of course, feed into valuation and tie into the market, in terms of the corporate tax side. So I think that's needed for just more certainty with regard to policy implications and how they affect investors.
From a market perspective, you know, one of the things that the release of the vaccine information did, was really turn into this rotational move toward more traditionally cyclical parts of the economy—you know, financials, energy, industrials. That could have legs; we could continue to see support under those more traditional cyclicals, but we're going to need it confirmed by the trajectory in the economy. I think absent a real improvement in that trajectory, we might just be in the midst of some fits and starts of leadership in those areas. So that's what I think is important in terms of the inner workings of the market and where maybe leadership might start to look different in 2021 than what's been the case in 2020.
MIKE: Well, such valuable perspective, as always, Liz Ann. I know you're really busy, so thank you so much for taking time to join me today.
LIZ ANN: My pleasure. Thanks for having me, Mike.
MIKE: That's Liz Ann Sonders, Schwab's chief investment strategist. You can follow her on Twitter @LizAnnSonders.
Let me wrap up this episode with some of my own thoughts on the election. Of course, we are still waiting for the final results and for legal challenges to sort themselves out. But here are my five big thoughts on Election 2020:
First, I think we saw a sea change in the way we vote. We saw the largest number of votes in our nation's history. As a percentage of the eligible voting population, we may end up with our highest turnout since the election of 1900—an incredible fact, given the change in overall population since then. More than 100 million people voted early, either in person or by mail.
And these numbers confirm a simple truth: If you make it easier for people to vote, if you give people more options about when and how to vote, then more people will vote. While it's true that most of the changes that made this possible were the result of the pandemic, it's very hard to see states going back to the way it was before. I expect to see these kinds of more flexible rules in place going forward.
Second, and this is hardly a "hot take," but the election once again underscored how deep divisions are. The race came down to razor-thin margins in a handful of states—roughly 10,000 votes out of more than 4.9 million cast in Georgia, around 50,000 votes out of more than 6.6 million cast in Pennsylvania. And the divide between voters who live in urban and suburban areas and voters who live in rural areas continues to grow.
The problem is that the two halves of the nation see our country from fundamentally different perspectives. Perhaps the biggest challenge President-elect Joe Biden will face is figuring out how to govern for all in a nation that increasingly feels like two distinct countries.
Third, while they won the White House, it was not an especially good election for Democrats overall. It was widely expected that if Joe Biden won, Democrats would sweep into the majority in the Senate on his coattails, but that did not happen. While the party still has a chance to eke out a 50-50 tie and the narrowest of majorities if the upcoming Georgia runoffs go its way, much more was expected. Democratic Senate candidates raised an astonishing $809 million in 2020, as compared to Republicans' $494 million, according to the Center for Responsive Politics. But that money did not translate into wins. Jaime Harrison, the Democratic nominee in South Carolina, raised $109 million himself, an all-time record for a Senate race. But he lost to Senator Lindsay Graham by 11 points. Amy McGrath raised nearly $90 million for her challenge to Majority Leader Mitch McConnell in Kentucky—and lost by almost 20 points. Democrats also came up short in races in Iowa, Maine, Montana, and North Carolina—all states where the Democrat was seen by many analysts as the favorite.
Perhaps even more galling to Democrats was the surprise loss of seats in the House of Representatives. While several races remain too close to call, it appears that Democrats will have lost somewhere between 7 and 11 seats. They keep their majority in the House, but it's significantly narrower.
Which leads me to my fourth big thought: The debate about the future direction of the party that has been simmering just beneath the surface of the Democrats for months is about to burst back into the open. The powerful progressive wing of the party united behind Joe Biden not because of his policy proposals but because beating Donald Trump was the singular goal. Now that it appears that has been accomplished, those internal divisions may re-emerge.
And it may begin soon, as progressives advocate for their recommendations for key slots in a Biden Cabinet. But Biden will have to weigh those decisions with the possibility that those Cabinet picks will have to be confirmed by a Republican Senate, which may veto picks it deems as "too left."
And the policy agenda in 2021 and beyond is likely to be a constant tug-of-war between the party's progressive wing, which wants to "go big" on issues like health care and climate change, and Biden's long-standing preference to find incremental success through compromise.
And finally, big thought number five is the same big thought I had before the election: It's still all about the Senate. Control of the Senate now hinges on those two runoff elections in Georgia.
And the universe of what is politically achievable for President-elect Joe Biden under a scenario where Democrats win both the races and hold a slight Senate majority is vastly different from what is politically achievable if Republicans retain their Senate majority. It leaves investors in a bit of a limbo—as it is impossible right now to game out what might be on the policy agenda in 2021 and beyond until we know that outcome.
But here's one thing to keep in mind. I was saying this before the election and it's even more true now. And Liz Ann Sonders mentioned this in her comments earlier. There is not Democratic unanimity on many of the high-profile issues on the policy agenda, whether it be on taxes or climate change initiatives or big structural ideas like eliminating the filibuster or adding justices to the Supreme Court. And when the best Democrats can hope for is a one-vote majority in the Senate, it underscores that those internal divisions are likely to curb some of the most ambitious proposals from Joe Biden's campaign.
We'll have to see how it all plays out a little less than two months from now. But the political world and the markets will be watching.
That's all for this week's episode of WashingtonWise. We're going to take a bit of a break now, unless the lame-duck session of Congress produces news we need to analyze. So please stay subscribed so you don't miss an episode.
And if you like what you've heard, please leave us a rating or a review on Apple Podcasts or your favorite listening app—those ratings and reviews really do matter.
For important disclosures, see the show notes or Schwab.com/WashingtonWise, where you can also find a transcript.
I'm Mike Townsend, and this has been WashingtonWise. Wherever you are, stay safe, stay healthy, and keep investing wisely.
After you listen
Listen and subscribe to WashingtonWise at schwab.com/WashingtonWise or in your podcast app of choice.
You can also follow Mike Townsend and Liz Ann Sonders on Twitter—@LizAnnSonders and @MikeTownsendCS, respectively.
Listen and subscribe to WashingtonWise at schwab.com/WashingtonWise or in your podcast app of choice.
You can also follow Mike Townsend and Liz Ann Sonders on Twitter—@LizAnnSonders and @MikeTownsendCS, respectively.
Listen and subscribe to WashingtonWise at schwab.com/WashingtonWise or in your podcast app of choice.
You can also follow Mike Townsend and Liz Ann Sonders on Twitter—@LizAnnSonders and @MikeTownsendCS, respectively.
As a bonus for Financial Decoder listeners, here is a special Election 2020 episode of WashingtonWise.
After an unprecedented election that saw both Joe Biden and Donald Trump receive more votes for president than any other candidates in history, the focus is shifting to how much of his agenda President-elect Biden will be able to enact.
In this episode of WashingtonWise, Mike talks to Schwab's Chief Investment Strategist Liz Ann Sonders about the market reaction to the presumed and actual election results, as well as the promising news from a vaccine trial. They discuss the prospects for a narrow Senate majority—one way or the other—pending a January 5 runoff in the state of Georgia and what the market will be watching into 2021.
Mike also shares his key takeaways from this historic election and considers whether a new round of stimulus is likely to come out of the "lame duck" session of Congress.
WashingtonWise is an original podcast from Charles Schwab.
If you enjoy the show, please leave a rating or review on Apple Podcasts.
More from Charles Schwab
Bear markets occur with some regularity. Is your portfolio ready? Get prepared with these seven investing tips.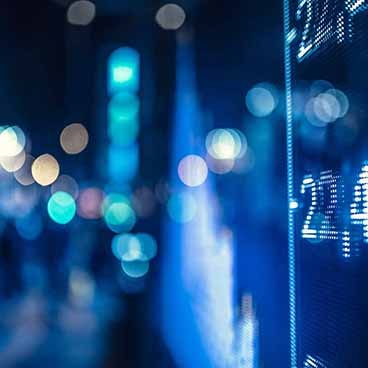 Oil markets continue its volatile ride while traders attempt to assess the fundamentals within the industry to gain insight into futures prices of the product.
Rising inflation, rate hikes, supply-chain problems and the Russia-Ukraine war have contributed to growing recession fears. While recessions are impossible to predict, we think the risk of one—sooner rather than later—has picked up.