Trading Insights
Knowing more starts here
Schwab's trading specialists answer your trading questions and provide the latest commentary and insights.
Schwab Live
Randy Frederick
Lee Bohl
Kevin Horner
Lou Mercer
Schwab trading specialists broadcast live online to assess current market conditions, discuss trading strategies, and answer questions directly from traders—maybe even yours.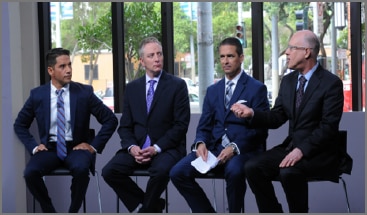 Schwab's trading specialists
answer your trading questions and provide the latest commentary and insights.
Schwab Live
Get exclusive real-time insights and perspectives from our premier trading specialists at an upcoming event, or watch one of our latest videos.
Schwab's trading specialists
answer your trading questions and provide the latest commentary and insights.
Randy Frederick
Managing Director of Trading and Derivatives at Schwab
Weekly Market Perspectives
Interest Rates Rise: What Else Does the Fed Have in Store for Rest of 2017?
June 15, 2017
NATHAN PETERSON: Hello, and welcome to the Schwab Market Snapshot for June 15th. I'm Nathan Peterson, sitting in for Randy Frederick. Today, I'm joined by Kathy Jones, Schwab's chief fixed income strategist, to discuss the takeaways from this week's FOMC* meeting. Welcome Kathy.

KATHY JONES: Hi, Nate. Thanks for having me.

NATHAN: So, Kathy, as the market expected, the Fed raised interest rates 25 basis points, but bond yields are going the opposite direction. In fact, the 10-year yield hit its lowest level since November on Wednesday. Why do you think this is happening?

KATHY: Well, it's really not unusual for bond yields to fall when the Fed is in tightening mode. As they raise rates, the signal to the market is that the Fed is moving to slow down inflation and the economy, and bond yields are very sensitive to inflation expectations. So with the Fed tightening at a time when inflation has already been low and declining it's actually a positive signal for bondholders.

NATHAN: So why do you think the Fed is raising if inflation is so low? In fact, their favorite gauge, the PCE Price Index, is at 1½ percent, and it's actually been coming down over the past couple of months. What do you think the motivation is to continue to tighten their policy?

KATHY: Well, that's a great question, and it's one that Janet Yellen was asked at the press conference after the Fed meeting, and she noted a couple of things.

One is that the starting level for the Fed Funds Rate is still abnormally low. It's actually below the rate of inflation. And so the Fed is very eager to get back to a normal policy stance after this long stretch of very, very low interest rates. So part of the motivation is to just get those rates moving back to something that's a bit more normal. And that allows them some flexibility if we were to go into a recession somewhere down the road. They would actually have some room to lower rates again.

The second reason, though, is the Fed views the recent decline in inflation as transitory. Meaning there's just some one-off factors that have pulled it down and it's going to bounce back up. And that's based on their models that show when the unemployment rate is as low as it is today, that usually means that wages start to pick up and consumer spending, and that usually sends inflation higher. So in the viewpoint of the Fed, it's prudent to start—or continuing raising rates right now—even though inflation is low because they see it coming back on the horizon.

NATHAN: One other item the Fed mentioned during their meeting was that they want to reduce their balance sheet. When do you see this happening, and what do you think is going to be the likely impact on the markets?

KATHY: Well, that was a surprise to the market that they actually laid out their plan for shrinking the balance sheet at this meeting. We thought it might happen later in the year, maybe in the fall, and then maybe they would implement it at the end of the year or next year. But, actually, by announcing it at this week—this week's meeting—it sets the stage for possibly beginning to shrink the balance sheet or move in that direction as early as this fall.

We actually don't see a huge impact on the market going forward. The Fed's plan, which has been very clearly spelled-out, is to take a very, very gradual approach to reducing the balance sheet, and letting some of the bonds mature over time, many years over time, so that the impact is limited. So, all in all, we don't see it having a real big impact on the bond market.

NATHAN: Great. Well, thanks so much for your insights, as always, Kathy. If you want to read more from Kathy you can do so in the Investing Insights section on Schwab.com or you can follow her on Twitter @KathyJones. We'll be back next week. Until next time, invest wisely. Own your tomorrow.

*Federal Open Market Committee

Important Disclosures

The information provided here is for general informational purposes only and should not be considered an individualized recommendation or personalized investment advice. Please note that this content was created as of the specific date indicated and reflects the author's views as of that date. It will be kept solely for historical purposes, and the author's opinions may change, without notice, in reaction to shifting economic, market, business, and other conditions.

Data contained herein from third party providers is obtained from what are considered reliable sources. However, its accuracy, completeness or reliability cannot be guaranteed. Supporting documentation for any claims or statistical information is available upon request.

Past performance is no guarantee of future results and the opinions presented cannot be viewed as an indicator of future performance.

Schwab Center for Financial Research ("SCFR") is a division of Charles Schwab & Co., Inc.

Fixed income securities are subject to increased loss of principal during periods of rising interest rates. Fixed-income investments are subject to various other risks including changes in credit quality, market valuations, liquidity, prepayments, early redemption, corporate events, tax ramifications and other factors. Lower-rated securities are subject to greater credit risk, default risk, and liquidity risk.

Investing involves risk including loss of principal.

Definitions

The core PCE price index is defined as personal consumption expenditures (PCE) prices excluding food and energy prices. The core PCE price index measures the prices paid by consumers for goods and services without the volatility caused by movements in food and energy prices, to reveal underlying inflation trends.

©2017 Charles Schwab & Co., Inc. ("Schwab"). All rights reserved. Member SIPC (TKTK). (0617-7FCE).
CNBC Trading Nation
Unique Market Perspectives from CNBC "Trader Coaches", Updated Daily
DISCLOSURE
This material was prepared by an independent third party that is not affiliated with Schwab. Schwab does not edit or endorse any of this material and is not responsible for its content.
Important Disclosures
Options carry a high level of risk and are not suitable for all investors. Certain requirements must be met to trade options through Schwab. Please read the options disclosure document titled "Characteristics and Risks of Standardized Options." Supporting documentation for any claims or statistical information is available upon request.

Multiple-leg options strategies will involve multiple commissions. Covered calls provide downside protection only to the extent of the premium received and limit upside potential to the strike price plus premium received.

Schwab does not recommend the use of technical analysis as a sole means of investment research.

Investors in ETFs should consider carefully information concerned in the prospectus, including investment objectives, risks, charges and expenses.
You can request a prospectus by calling 800-435-4000. Please read the prospectus carefully before investing. Investors in Closed-End Funds please note that since these securities are not continuously offered, there may be no prospectus available.
Investment returns will fluctuate and are subject to market volatility, so that an investor's shares, when redeemed or sold, may be worth more or less than their original cost. Unlike mutual funds, shares of ETFs are not individually redeemable directly with the ETF. Shares are bought and sold at market price, which may be higher or lower than the net asset value (NAV).

International investments are subject to additional risks such as currency fluctuation, geopolitical risk and the potential for illiquid markets.
With a qualifying net deposit of $100,000, earn 500 commission-free online trades.

Offer valid for individuals who make a qualifying net deposit into a Charles Schwab & Co. Inc. ("Schwab") retail brokerage account within 45 days of enrollment in the offer. Net deposits are assets deposited into the enrolled account minus assets withdrawn from the account and transferred out of Schwab. Only assets new to Schwab qualify; assets transferred from affiliates other than Schwab Retirement Plan Services, Inc. and Schwab Retirement Plan Services Company are excluded. The trades will be credited to the enrolled account within approximately one week of confirmation of your qualifying net deposit. Trades apply only to base equity, exchange-traded fund (ETF), and options commissions and options per- contract fees up to 20 contracts per trade (standard per-contract fees apply for additional contracts). Foreign transaction, exchange, and regulatory fees still apply. Only trades placed through Schwab.com, Schwab trading platforms, and Schwab Wireless are eligible. Trades will expire 365 days after being

credited to your account and will not be applied to previously executed trades. No credit will be given for unexecuted trades.

Schwab reserves the right to change the offer terms or terminate the offer at any time without notice. This offer is limited to one per account, with no more than one account enrolled per client. No more than 500 trades per client may be received pursuant to all promotional offers in any 12-month period. This offer does not apply to brokerage accounts managed by independent investment advisors or enrolled in an advisory service, the Schwab Global Account ™, ERISA-covered retirement plans, certain tax-qualified retirement plans and accounts, or education savings accounts. This offer is not transferable, saleable, or valid in conjunction with any other offer and is available to U.S. residents only. Employees, contractors, or persons similarly associated with Schwab or a Schwab affiliate; or their spouses; and employees of any securities regulatory organization or exchange are not eligible. Other restrictions may apply. Recent IRS guidance may impact your ability to make more than one IRA to IRA rollover in a one-year period. Any taxes related to the offer are your responsibility.