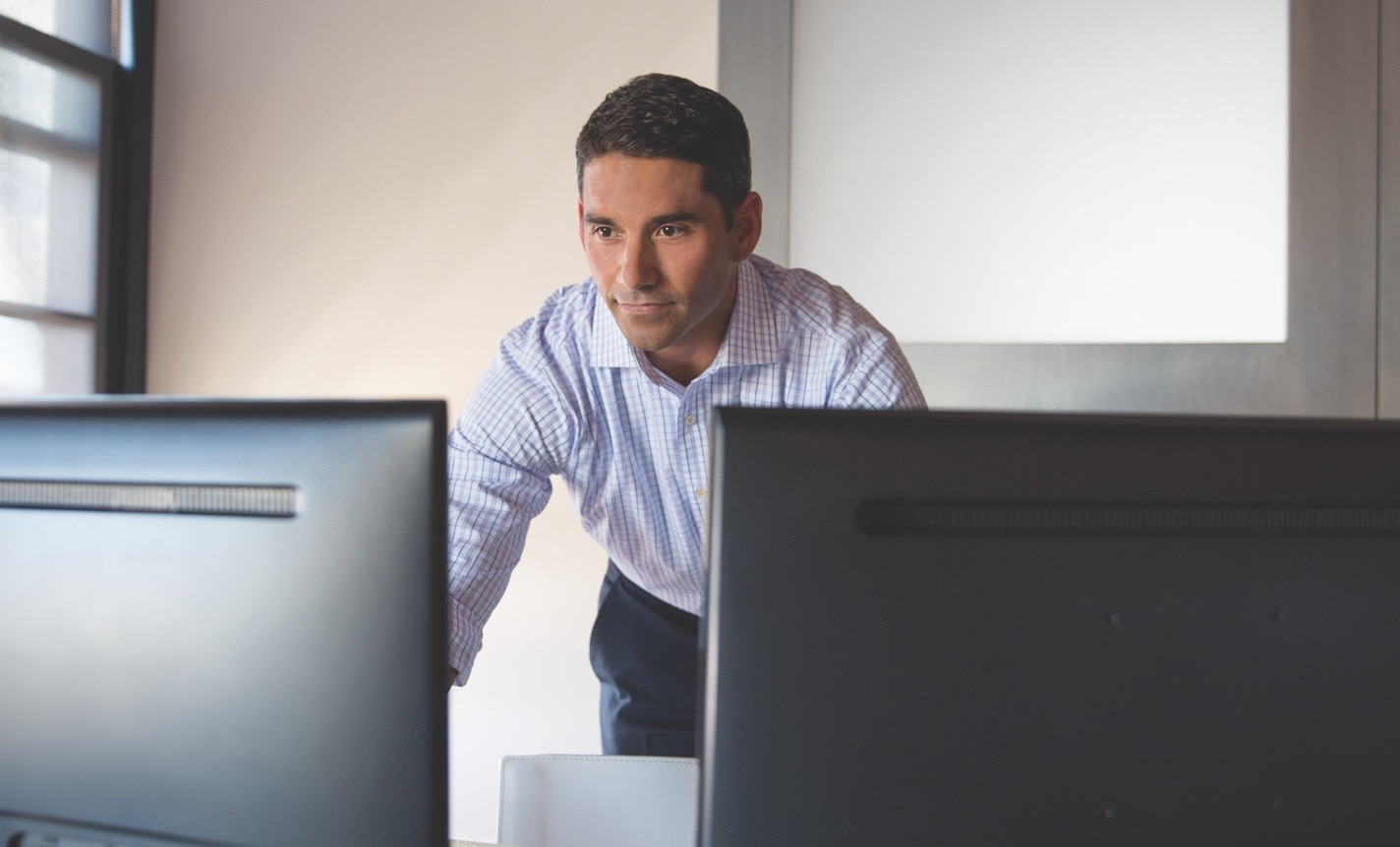 Commission-free trading online. Same award-winning experience.
$0 online trades1 + $0.65 per options contract3
No account or trade minimums
No hidden fees
Listed Stocks and ETFs online commission¹,²

Options per contract³ with no online commission¹

Futures and Futures Options per contract⁴
In addition to our low fees, Schwab also offers competitive margin rates and a Satisfaction Guarantee5.
What do Schwab traders get along with no-commission trades?
Powerful and intuitive trading platforms

24/7 access to licensed trading specialists

Award-winning trade reliability
Resources designed for traders, by traders.
Free premium research from Schwab and third parties
Customizable tools for ideas and analysis
Trader education and insights from our education experts
Live weekday insights into what's driving the markets
Plus additional value for every trade with Schwab Order Execution Advantage™.
Obtaining high-quality executions on your orders, whether you're buying or selling shares, may result in real savings.7 See how we improved executed market orders in S&P 500® stocks during the previous quarter.
Price Improvement Tooltip Price improvement (PI) occurs when your orders are executed at better prices than the best quoted market price, known as the National Best Bid and Offer, or more commonly, NBBO. This price difference saves you money.

Average Savings Per Order Tooltip Measured as the net notional dollar value of price improvement per share multiplied by the number of executed shares given to clients divided by the total number of executed orders - ((Net price improvement per Share * Executed Shares) / Executed Orders).
Common questions
Commissions are fees that a brokerage charges when you buy or sell an investment product like stocks, ETFs, and more.

At Schwab, whether you are a new or existing client, you can trade for $0 online commission when you buy or sell a listed stock or ETF. You can also buy or sell options online for only $0.65 per contract with $0 commission.1

There are no account or trade activity minimums to be eligible for commission-free trading. You do not need to initially fund your account to a certain level nor maintain funding or trading activity at a minimum level to be eligible for commission-free trading. 

This means you can enjoy $0 online commissions1 for eligible products whether you trade 1 or 100 times a month, or whether you have $1 or $1,000,000 in your account.

Commission-free trading for eligible products is available on Schwab.com, all StreetSmart trading platforms, and the Schwab Mobile app.

No. Our goal is to make investing and trading accessible to all. Our clients get the same level of resources and service as they did when Schwab used to charge commission. From our robust education, expert insights, and dedicated support from trading specialists, to premium research and our advanced trading platforms with streaming data, the only thing that's changed is that clients don't pay commission for online trades.1

No. At Schwab, we are continually evaluating our tools and platforms to ensure we are offering you the best trading experience possible. Our commitment to innovation remains the same regardless of commissions.

$0 commissions1 have no effect on trade speed or execution quality. Schwab is committed to providing fast, quality executions with the highest level of transparency related to our performance, process, and practices. Learn more about Schwab Order Execution Advantage™.

An automated phone trade is when you call in and use your phone keypad to enter the order details. A broker assisted trade is when you call in to our broker teams and they place the order on your behalf. A broker assisted trade represents a transfer of risk from you to Schwab in placing the order correctly. While no commission fees apply for eligible products, automated phone trades have a service fee of $5 and broker assisted trades have a service fee of $25.

Clients are always welcome to call in to speak with a broker for assistance at 800-435-9050. There is never a service fee associated with a guided walk through of how to place a trade online.
A trading experience recognized by industry analysts and clients
Ranked "Best in Class" for Trading Platforms and Tools

Rated a Best Online Broker for all 10 Years

by Investor's Business Daily
Have questions? We're here to help.