Debt Ceiling Disruption: Volatility Ahead?
It's been two years since markets had to worry about the debt ceiling, which often sparks market volatility. Now it's back, and the clock is ticking for Congress to address it. Here's what investors need to know.
Transcript
Open new window
Transcript of the podcast:
MIKE TOWNSEND: With the July Fourth holiday break in the rearview mirror, the Senate returned to Washington this week for a four-week stretch that could go a long way toward determining the fate of President Biden's ambitious economic agenda.
Senate Democrats are hoping to make substantial progress on both a bipartisan infrastructure bill and an even larger package of spending on social programs, health care, climate change and more―a package that would be passed without Republican support.
It's a massive undertaking that is filled with political landmines. And the outcome is undoubtedly important to the markets and investors.
But this month also brings something else that matters greatly to the markets―something familiar, yet something that has been out of sight and out of mind for two years: the debt ceiling.
Welcome to WashingtonWise, an original podcast from Charles Schwab. I'm your host, Mike Townsend, and on this show, our goal is to cut through the noise and confusion of the nation's capital and help investors figure out what's really worth paying attention to.
In just a few minutes, I'll dive into the debt ceiling: what it is, why we have it, why it went away for a while, why it's coming back, and how Congress absolutely has to address it but doesn't currently have much of a plan to do so. Most importantly, we'll explore why investors should care.
But first, let's look at some of the other stories making headlines right now.
First up are those negotiations on the president's economic priorities.
Over the holiday break, Senate Majority Leader Chuck Schumer of New York outlined an ambitious agenda for the next month, laying out a two-track plan. On one track will be the bipartisan infrastructure bill, which Schumer plans to bring to a final vote before the August break. On the second track is a Democrats-only budget framework that would allow them to pass an even larger economic package this fall.
The bipartisan infrastructure bill seems to be the faster moving of the two. The president announced last month that he had reached a deal with a group of 21 senators on a spending package of a little more than a trillion dollars for roads, bridges, rail, public transit, broadband expansion, and more―a so-called "hard infrastructure" package. Of course, we're still waiting to see the actual legislation―the "deal" the White House announced was just a broad outline and a bunch of numbers. Congressional staff worked through the holiday break to turn the outline into legislation, and a bill could be introduced and debated as soon as next week.
Democrats need the support of at least 10 Republicans in the Senate to reach the 60-vote supermajority needed to break a filibuster and pass the bill―and that's assuming all 50 Democrats are on board, which is no sure thing. There were 11 Republicans who negotiated the deal with the White House―so that's not much wiggle room. While the markets would likely react well to a major infrastructure bill passing Congress, we still have a long way to go before that happens, and the potential for it all to collapse remains high.
Senate Democrats have a different problem on the second bill―striking a deal amongst themselves. They need only a simple majority to pass a budget resolution, the blueprint for next year's budget. That would become the framework into which they can eventually add a second spending bill focused on social programs, climate change, health care, and other priorities―as well as potential tax increases. But achieving a simple majority in the deadlocked Senate means getting all 50 Democratic senators―including the two independents who caucus with the Democrats―to agree to a package. And that is already shaping up to be quite an undertaking.
Senator Bernie Sanders of Vermont, who chairs the committee that will write the bill, said he planned to craft a proposal with about $6 trillion in spending. Last weekend, he acknowledged that a package in the $3.5 trillion range is likely more realistic. Moderate Democratic Senator Joe Manchin of West Virginia has already publicly said that his ceiling is about $2 trillion―and Democrats absolutely have to have his vote. Going smaller is what moderate Democrats want, but that alienates progressives in the party who want to go bigger. But going bigger to placate the progressives risks alienating the moderates. It's a conundrum with no clear outcome yet.
And that's just a debate about the overall size of the package. Once Democrats settle on a number, they will have to agree to all the details―prioritizing which programs get funded and which get dropped. It's going to be a messy process that could take well into the fall to resolve. So stay tuned.
In other news, SEC Chairman Gary Gensler said last week that the SEC would be putting forward new rules in the coming months to standardize what constitutes a "green" or "sustainable" mutual fund or exchange-traded fund.
Recent years have seen an explosion of investor interest in funds that purport to focus on environmental, social, and governance issues―what has become known as ESG investing.
But there are no clear criteria for what actually counts as an ESG investment. Gensler himself hit this point in comments last week, noting that on a grocery store shelf, a product claiming to be "fat-free" or "low-fat" has to also include data on the label about exactly how much fat is in the product.
Gensler said, "The basic idea is truth in advertising. We've seen a growing number of funds market themselves as 'green,' 'sustainable,' 'low-carbon,' and so on." He continued that it is often not clear to investors what criteria fund managers are using to make these assertions. "I think investors should be able to drill down to see what's under the hood of these funds," Gensler stated.
Earlier this year, the SEC issued a "risk alert" about this very issue, noting that the lack of precision of "industry ESG definitions and terms can create confusion among investors."
As a result, Gensler called on the SEC staff to make recommendations about whether fund managers should disclose the criteria and underlying data they use for their ESG funds. And he called for "a holistic look at naming conventions" for ESG funds, with an eye toward creating standards that will be easier for investors to understand.
In doing so, the U.S. would be following European regulators, whose Sustainable Finance Disclosure Regulation went into effect in March. Those rules are aimed at cracking down on fund firms that exaggerate their ESG claims and making it easier for investors to compare funds.
As you've heard me say on this podcast many times before, the regulatory process is a long one in the United States, and it will likely be a year or two before new rules are finalized. But clarity for investors about what exactly constitutes a "green" fund is likely to be worth the wait.
Finally, Federal Reserve Chairman Jerome Powell was back on Capitol Hill this week, delivering his semi-annual testimony to both the House and the Senate on monetary policy and the state of the economy. I'm recording this podcast right before his testimony, but it doesn't take a fortune teller to know that a lot of the questions from lawmakers will be focused on inflation.
In recent months, Powell has been consistent in saying that he expects the recent spike in inflation to be temporary and that he is more focused on getting the U.S. back to full employment before beginning to taper the bond-buying purchases that the Fed has been using to support the economy since the start of the pandemic.
Last year, Fed officials spoke with one voice on the data they were watching, the plan for backing off the bond purchases, and the longer-term plan for possibly considering interest rate hikes in 2023 or beyond.
But in recent months, the Fed has grown increasingly divided. With prices rising for everything from airline tickets to used cars to restaurant meals to houses, debate has sharpened among economists inside and outside of the Fed about whether higher-than-expected inflation will persist. At the Fed, that concern is driving internal debate over when and how quickly to slow the $120 billion in monthly bond-buying it has been engaged in for more than a year. Doing so would be a first step towards eventually increasing interest rates―something that drives endless speculation among investors.
An illustration of the growing divisions within the Fed comes from what is known as the "dot plot"―it's literally a chart the Fed puts out four times a year in which a dot represents the interest rate forecast by each of its 18 members.
The current dot plot shows, not surprisingly, that all 18 members forecast that there will be no interest rate hikes in 2021. In March, just four members thought there would be at least one increase in the federal funds rate in 2022. But in June, that number grew to seven.
A majority of the group believes there will be at least one interest rate hike in 2023, but there are still five holdouts that believe it will be longer than that. So at the moment seven members believe there will an increase in 2022, and five members believe there will be no increase until 2024 at the earliest. That's a fairly wide spectrum of viewpoints.
Robert Kaplan, the president of the Federal Reserve Bank of Dallas, is one of those who thinks the Fed should be easing its support for the economy sooner rather than later. But Kaplan told The New York Times that he sees "the debate and disagreement as the Fed at its best." In fact, he said, "in a situation this complex and this dynamic, if I weren't seeing debate and disagreement, and there were unanimity, it would make me nervous."
The next Fed meeting is at the end of this month, but Fed watchers will also be interested in the late August meeting of the world's top central bankers and economists at Jackson Hole in Wyoming. That meeting was virtual last year due to the pandemic but is expected to be in person this time around, and it provides another opportunity this summer for the Fed to signal its intentions.
On my Deeper Dive today, I want to talk about the debt ceiling, because it has the potential to spark market volatility that investors should be prepared for.
But let's start with the first question: Why do we even have a debt ceiling?
The debt ceiling, or debt limit, is a cap on the total amount of debt the United States can accumulate. It's set by Congress. It keeps going up because the U.S. frequently operates with a fiscal deficit. The national debt is the accumulation of those annual budget deficits, and the government has to borrow to cover payments on its debt.
Prior to World War I, Congress granted borrowing authority on a case-by-case basis. In 1917, Congress passed a law that helped finance the country's entry into the war by dropping certain limits on the maturity and redemption of bonds. But it wasn't until 1939 that Congress set an aggregate limit on virtually all public debt. That limit was $45 billion. Today, that number is more than $28 trillion.
Originally, the debt limit was designed to give Congress oversight over the president―it was part of the checks and balances in our system of government, preventing the president from borrowing and spending as much as he wanted. In 1974, Congress reformed the budget process to require a detailed, public presentation of exactly how it was spending money. Now the debt ceiling acts as a kind of check on Congress itself―it is supposed to discourage reckless spending, though it would be hard to argue it's been successful in doing so.
Increasing the debt limit used to be a routine, non-controversial thing that Congress just did without much fuss. Congress would set the limit and then, a year or two later, as the debt grew and approached that limit, lawmakers would simply vote for a higher number.
But as the amount of debt has skyrocketed in the last two decades, voting to increase the debt limit has become much trickier politically. The number became embarrassingly large―$10 trillion, then $12 trillion, then $15 trillion, and beyond. Voting to increase the ceiling came to be seen as a kind of public admission of fiscal irresponsibility for lawmakers, who increasingly found the vote used against them by campaign opponents.
In 2013, Congress tried something different. Rather than raising the debt limit to a specific amount, they simply suspended the debt ceiling altogether, allowing debt to continue to grow until a certain date and then setting the ceiling at whatever the new debt amount was at the time it came back.
And that's where we are now. In August 2019, Congress voted to suspend the debt ceiling for two years, until the end of July of 2021. Now that date is upon us.
But what's the risk? Well, the risk is that the United States could default on its debts. If the Treasury runs out of cash to pay the government's bills, it normally would just borrow more. But the debt ceiling prohibits additional borrowing. If Congress won't or can't raise the debt limit, then Treasury would be unable to pay its obligations―most notably, interest and maturities on Treasury securities.
Importantly, default would not happen right away when the debt ceiling returns. First, Treasury typically has a lot of cash on hand, and tax revenue comes in from corporations and individuals each month, though the amount varies with the season. So first Treasury can spend down available cash to continue paying its bills.
Treasury can also take a variety of steps, known as "extraordinary measures," to stave off default for an additional period of time. In recent years, these steps have included suspending daily reinvestments in the federal employee retirement plan, the Thrift Savings Plan, as well as the retirement plans for civil service and postal service employees. It can also suspend the issuance of certain state and local government securities.
Over the past decade, the Treasury Department has taken these kinds of steps a half dozen times. Doing so essentially buys Congress more time to raise or suspend the debt ceiling, but that time is finite. Since 2011, these actions have extended Congress' deadline for acting for between three and seven months.
Last month, while testifying on Capitol Hill, Treasury Secretary Janet Yellen issued a very stern warning to Congress about this year's looming debt ceiling crisis. Yellen told Senators that the pandemic has created uncertainty around the size and timing of government payments and tax receipts. That uncertainty, she said, has made it more difficult to predict the exact date of when Treasury's extraordinary measures would be exhausted.
"It's possible that we could reach that point while Congress is out in August," said Yellen, referring to the fact that Congress is planning to be on recess from early August through Labor Day. She urged Congress to act quickly to raise or suspend the debt limit to ensure there are no disruptions to the economy or the markets.
Then she described a stark vision of what would happen if Congress fails to act. "Failing to increase the debt ceiling would have absolutely catastrophic economic consequences," Yellen told the senators. "I believe it would precipitate a financial crisis. It would threaten the jobs and savings of Americans at a time when we're still recovering from the COVID pandemic," she concluded.
Most market analysts think that Yellen's threat of default in August was a mild exaggeration, designed to spur Congress into acting as soon as possible. Experts estimate that Treasury's extraordinary measures could push out the deadline to perhaps October.
So will Congress heed the warning? Well, Democrats are looking at two options. The first is to attach a debt ceiling increase to that budget reconciliation package―part two of the two-track plan I described earlier. That would allow the debt ceiling to be resolved without Republican support. But using that process to raise the debt ceiling is rare―it's happened only four times since 1986, and not since 1997.
The other option is to attract enough Republican support to pass a bipartisan debt ceiling suspension―but that would require at least 10 Senate Republicans to reach a bipartisan deal. At the moment, Republicans don't seem inclined to take the second path, insisting that they would only support a debt ceiling increase if it is paired with a similar amount of spending cuts―something they know Democrats are opposed to doing. Republicans also see a political advantage. With Democrats holding majorities in both the House and the Senate, all the political pressure is on the majority party to address the issue. Republicans believe they can blame Democrats if the country defaults and believe they can criticize Democrats as fiscally irresponsible if the majority raises or suspends the debt ceiling.
There is no clear path forward at the moment. But Democratic leaders remain confident that they can get this done. Senate Budget Committee Chairman Bernie Sanders said last month that "it will be dealt with." And Senator Patty Murray of Washington state, the third-ranking Democrat in the Senate, said last month that "it has to be done. I don't know the path yet. Everyone is aware that it needs to be done. We have to pay our bills."
Murray's confidence is not misplaced. She knows that even when it looks like Congress is poised to let the debt limit lapse, lawmakers have always acted in time.
The U.S. government debt is the leading safe asset for international investment. Default would likely reverberate across not only the U.S. economy, but across global economies as well, disrupting the capital markets. At least, theoretically. While no one is really sure what would happen or how the markets would react, no one is willing to find out.
What does all this mean for investors? As I mentioned at the outset, the main risk is a period of increased market volatility. Uncertainty over whether and when Congress will act to raise or suspend the debt ceiling has sparked significant volatility in the past.
The most significant crisis happened in 2011, when Congress waited until the very last moment to avoid default. The volatility index spiked, and yields on 10-year Treasury notes fell. The crisis peaked when Standard & Poor's downgraded the credit rating of the United States for the first time ever, leading to what at the time was one of the most volatile weeks in the market's history. Market unrest was a huge factor in finally pushing Congress to act just days before the country went into default.
The scenario repeated itself, with varying degrees of volatility, during debt ceiling debates in 2013, 2017, 2018, and 2019.
Some analysts and lawmakers believe all this drama is unnecessary. Some advocates have called for eliminating the debt ceiling entirely. Others have said it should just automatically increase when necessary. Senator Elizabeth Warren, a Democrat from Massachusetts, said last month that "Raising the debt limit should just happen. This is a fake problem designed to do nothing but slow down the government and add aggravation. The United States government is not going to default on its loan obligations," Warren concluded.
For now, however, it seems unlikely that any dramatic changes to the process will happen anytime soon. So Congress will head into August with another debt ceiling drama beginning to unfold.
The bottom line is that while the path to addressing the debt ceiling is unclear at this time, Congress has always managed to find a way, and the expectation is that they will do so again in 2021. But investors should be prepared.
Expect a lot of news coverage of the situation beginning later this month. Coverage will focus first on how long those extraordinary measures can last and what the true default date is, something that the Treasury Department will have to communicate to Congress.
Then coverage will focus on whether, when, and how Congress will pass legislation to, most likely, suspend the debt ceiling again. Expect that reporting to get increasingly breathless as the deadline approaches, particularly if Congress continues to struggle to find a path forward. All of that is likely to boost volatility in the markets. The best advice is to be prepared to weather that volatility, remain calm, and don't make dramatic portfolio moves based on headlines.
Finally, on my Why It Matters segment, I want to look at the president's sweeping executive order to boost competitiveness. Last Friday, the president signed his 52nd executive order since he took office in January, and this one is perhaps the largest in scope.
The order includes 72 separate directives to more than a dozen government agencies, all designed to limit the power of large corporations across several sectors of the economy.
Some of them are designed to alleviate headaches that virtually everyone has experienced. Things like prohibiting internet service providers from charging a "termination fee" when a customer switches to a different provider. Or requiring airlines to refund customer baggage fees if your bag is lost or delayed or refund the fee you paid for in-flight internet service only to find that it's not working. We've all been there.
The executive order takes on big issues, too, calling on the Department of Health and Human Services to issue a plan in 45 days on how to reduce prescription drug prices. And it calls on the Federal Trade Commission to restore "net neutrality" rules. That's a set of rules created in the Obama administration and then repealed by the Trump administration that prohibited telecommunications companies from allowing certain internet content to move at faster speeds and other content at slower speeds.
The order also wades into the growing debate over anti-competitive behavior by big tech companies by calling for new scrutiny on acquisitions of smaller competitors and directing new rules to be written to protect small businesses from being pushed aside by bigger competitors on e-commerce platforms.
There are dozens more directives like these, in the health care, agriculture, labor, transportation, and finance sectors, among others.
So why does it matter? Well here's the key thing to know: Not one of the 72 directives in the executive order actually makes any changes right away. Rather, it's a road map for how the administration plans to address all of these issues through rulemaking by federal agencies.
The executive order is filled with language that says, "The Department of Such-and-Such" shall "consider" proposing rules in all of these different areas. But, again, the regulatory process is a notoriously slow one. The agencies cited in the executive order will have to draft rules and then formally propose them. That triggers a public comment period, followed by an unspecified amount of time for the agency to analyze the responses, consider any changes to the proposed rule, and then ultimately a public vote to finalize the rule. Once a rule is on the books, there is usually a lengthy implementation period before the rule goes into effect. A year would be a very fast timeline for some of these rules―and many could take two years, three years, or even more to turn into reality.
The takeaway―when you get back to flying and find that the in-flight wi-fi still doesn't work, don't hold your breath for a refund quite yet. It will be a while before that rule―and all the others―gets finalized.
Well that's all for this week's episode of WashingtonWise. I'll be back in two weeks, so please take a moment now to follow the show in your listening app so you don't miss an episode. And if you like what you've heard, leave us a rating or a review—that really helps new listeners discover the show.
For important disclosures, see the show notes or schwab.com/washingtonwise, where you can also find a transcript.
I'm Mike Townsend, and this has been WashingtonWise. Wherever you are, stay safe, stay healthy, and keep investing wisely.
After You Listen
If you'd like to learn more about ESG investing, check out this episode of the Financial Decoder podcast
Follow Mike Townsend on Twitter @MikeTownsendCS.
If you'd like to learn more about ESG investing, check out this episode of the Financial Decoder podcast
Follow Mike Townsend on Twitter @MikeTownsendCS.
this episode of the Financial Decoder podcast
Follow Mike Townsend on Twitter @MikeTownsendCS.
" id="body_disclosure--media_disclosure--32116" >
If you'd like to learn more about ESG investing, check out this episode of the Financial Decoder podcast
Follow Mike Townsend on Twitter @MikeTownsendCS.
The two-year suspension of the debt ceiling expires on July 31. To avoid the U.S. defaulting on its debts, Congress must act to either extend the suspension or raise the debt limit. Mike Townsend looks at the history of the debt ceiling, the challenges Congress faces in addressing it, and why procrastination could spark market volatility in the weeks ahead.
Mike also offers an update on the Senate's two-pronged approach to infrastructure and other spending priorities and the aggressive timeline Senate Majority Leader Schumer has set for getting the bills finished. He also looks at Fed Chair Jerome Powell's testimony before Congress this week and the growing divide at the Fed over when to begin easing its support for the economy, as well as the SEC's focus on what constitutes a "green" fund. And he considers what President Biden's recent executive order on competition means, what industries it impacts, and the timeline for change.
WashingtonWise is an original podcast from Charles Schwab.
If you enjoy the show, please leave a rating or review on Apple Podcasts.
More from Charles Schwab
U.S. stocks declined, giving back some of the gains from earlier this week as the volatility in the currency and bond markets continued to be a major source of uneasiness for investors.
U.S. stocks declined, giving back some of the gains from earlier this week as the volatility in the currency and bond markets continued to be a major source of uneasiness for investors.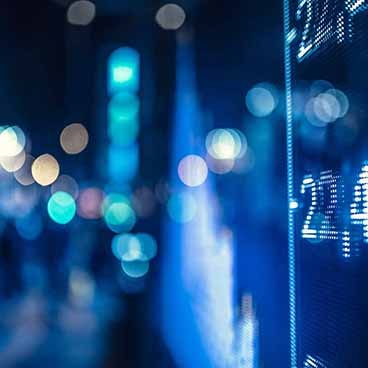 The November Soybeans contract (SX22) has fallen 1.28% to 1365.75 in Wednesday's late morning trading as soybean harvest passes 22% completion.

Important Disclosures

The policy analysis provided by the Charles Schwab & Co., Inc., does not constitute and should not be interpreted as an endorsement of any political party.

The information provided here is for general informational purposes only and should not be considered an individualized recommendation or personalized investment advice. The investment strategies mentioned here may not be suitable for everyone. Each investor needs to review an investment strategy for his or her own particular situation before making any investment decision.

All expressions of opinion are subject to change without notice in reaction to shifting market conditions. Data contained herein from third-party providers is obtained from what are considered reliable sources. However, its accuracy, completeness or reliability cannot be guaranteed.

Investing involves risk, including loss of principal.

Past performance is no guarantee of future results and the opinions presented cannot be viewed as an indicator of future performance.

Socially screened or Environmental, Social, and Governance (ESG) strategies exclude certain investments and therefore may not be able to take advantage of the same opportunities or market trends as strategies that do not use social screens.

Apple Podcasts and the Apple logo are trademarks of Apple Inc., registered in the U.S. and other countries.

Google Podcasts and the Google Podcasts logo are trademarks of Google LLC.

Spotify and the Spotify logo are registered trademarks of Spotify AB.

0721-1UJE