Trading Tools
Let's chat
Professional answers 24/7
Hi, have questions about our trading services or tools? I can help …
Live chat
Trading Software Platform: StreetSmart Edge®
StreetSmart Edge—the latest version of Schwab's flagship StreetSmart® trading platform—features an intuitive workflow that aligns with the way you think about trading, making advanced trading software tools and charting easy to use.
Get a free demo of our trading platforms.
Get 500 commission-free online equity and options trades for two years.
Demo Videos
See StreetSmart Edge up close with demos covering key features and advantages.
See StreetSmart Edge up close with demos covering key features and advantages.
Web traders: a cloud version of StreetSmart Edge is now available. Learn more
Find the StreetSmart Edge tools that meet your trading style.
Find Opportunities – Generate trading ideas using fundamental and technical criteria.
Research and Analyze – Enhanced tools to make faster, informed decisions.
Place Trades – Submit orders from the simple to complex, including multi-leg options.
Risk Management – Automate your exit strategy or create alerts for buy and sell signals.
Account Management – Stay in control with easy access to critical order and position data.
Customize Platform – Tailor StreetSmart Edge to suit your personal style and strategy.
Play Video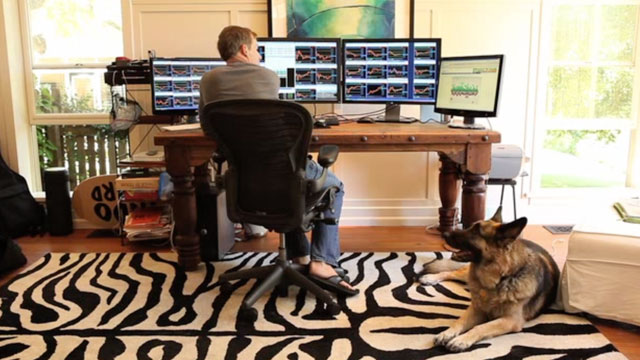 Traders on Trading: The making of StreetSmart Edge
Real traders share their thoughts about trading. You'll also see how StreetSmart Edge was developed around a trader's needs.
Your trading platform: help or hindrance?
Today's advanced trading platforms are supposed to help you as a trader. But often, their complexity makes them hard to learn and use (and even harder to master). So they end up getting in the way of your trading.
Designed for traders like you.
When StreetSmart Edge development began, Schwab designers recognized the frustration traders had with their platforms. Visiting traders in their homes and offices and observing their workflow using the platforms, they asked, "What do you need to do now?" and "How is your platform getting in the way?" They then created a platform that combines a deep understanding of traders with design innovation.
A platform that thinks like a trader.
StreetSmart Edge has an intuitive, approachable design that aligns with your trading workflow. Its integrated tools make the process of identifying (and acting) on potential opportunities more logical and efficient. Its flexibility helps it adapt to your style and skill level. And its features work together to help you monitor your orders and positions.
System requirements for Windows® users:
| | | |
| --- | --- | --- |
| Component | Minimum | Recommended for the best service |
| Operating System | Windows 7 with Service Pack 1 | Windows 8.1 (64-bit) or later (Touch screens and tablets not certified) |
| Processor | Intel Core i5 | Intel Core i7/AMD FX 8150 or faster |
| Memory | 2 GB RAM | 4 GB RAM or more |
| Hard Disk | 200 MB available disk space | 200 MB available disk space |
| Graphics/Video Memory | 512 MB (External USB video devices are not supported) | 1 GB or more (External USB video devices are not supported) |
| Internet Connection (download speed) | 5 Mbps (Wireless not recommended) | 10+ Mbps (Wireless not recommended) |
Using a Mac® or don't meet the Windows minimum system requirements?
StreetSmart Edge can be used with our cloud-based solution. You can use the internet to access StreetSmart Edge in the cloud so the program can be used with non-Windows-based computers or computers that may not meet the minimum system requirements.1 Launch StreetSmart Edge in the cloud now or call a Schwab Client Services Specialist at 800-435-4000 for more information.
1. To learn more about the cloud-based solution including the system requirements, click here.
Schwab rated "Best in Class" for
platforms and tools
by StockBrokers.com, 2017.
Schwab Trading Services 500 Commission-Free Trades Promotion
Terms and Conditions
1. With a qualifying net deposit of $100,000, earn 500 commission-free online trades.

Offer valid for individuals who make a qualifying net deposit into a Charles Schwab & Co. Inc. ("Schwab") retail brokerage account within 45 days of enrollment in the offer. Net deposits are assets deposited into the enrolled account minus assets withdrawn from the account and transferred out of Schwab. Only assets new to Schwab qualify; assets transferred from affiliates other than Schwab Retirement Plan Services, Inc. and Schwab Retirement Plan Services Company are excluded. The trades will be credited to the enrolled account within approximately one week of confirmation of your qualifying net deposit. Trades apply only to base equity, exchange-traded fund (ETF), and options commissions and options per-contract fees up to 20 contracts per trade (standard per-contract fees apply for additional contracts). Foreign transaction, exchange, and regulatory fees still apply. Only trades placed through Schwab.com, Schwab trading platforms, and Schwab Wireless are eligible. Trades will expire 730 days after being credited to your account and will not be applied to previously executed trades. No credit will be given for unexecuted trades.

Schwab reserves the right to change the offer terms or terminate the offer at any time without notice.This offer is limited to one per account, with no more than one account enrolled per client. No more than 500 trades per client may be received pursuant to all promotional offers in any 12-month period. This offer does not apply to brokerage accounts managed by independent investment advisors or enrolled in an advisory service, the Schwab Global Account™, ERISA-covered retirement plans, certain tax-qualified retirement plans and accounts, or education savings accounts. This offer is not transferable, saleable, or valid in conjunction with any other offer and is available to U.S. residents only. Employees, contractors, or persons similarly associated with Schwab or a Schwab affiliate; or their spouses; and employees of any securities regulatory organization or exchange are not eligible. Other restrictions may apply. Recent IRS guidance may impact your ability to make more than one IRA to IRA rollover in a one-year period. Any taxes related to the offer are your responsibility.

2. Restrictions apply: The $4.95 flat commission does not apply to foreign stock transactions, large block transactions requiring special handling, employer negotiated commission schedules applicable to equity compensation transactions, or restricted stock transactions. Foreign ordinary shares that trade online in the U.S. over-the-counter (OTC) market and do not settle in the U.S. will have a $50 foreign transaction fee added to the cost of the transaction. All broker-assisted and automated phone trades are subject to service charges. A minimum deposit of $1,000 is required to open most Schwab brokerage accounts. Waivers may apply. See the Charles Schwab Pricing Guide for details. Employee equity compensation transactions are subject to separate commission schedules.
3. Information about third-party ratings

StockBrokers.com: "2017 Online Broker Review," published February 21, 2017. Participation in the review is voluntary; a total of 16 online brokers submitted themselves for ranking for the 2017 review. The Online Broker Review assesses participating online brokers on 308 variables across 10 categories: Commissions & Fees, Offering of Investments, Platforms & Tools, Research, Customer Service, Mobile Trading, Ease-of-Use, Education, Order Execution, and Banking. All categories, with the exception of "Banking," are factored in to the overall ranking. Star ratings are out of five possible stars and are based on a calculation that combines the variable assessment with an opinion score from 1-10 with 10 "very good" in StockBrokers.com's opinion. Best in Class are online brokers who have placed within the Top 5 for a category. Industry Awards are awarded based on the opinions of StockBrokers.com. Read our 2017 Online Broker Review. For further information on how the ratings were calculated, see StockBrokers.com's "How We Test".

Options carry a high level of risk and are not suitable for all investors. Certain requirements must be met to trade options.. Multiple-leg options strategies will involve multiple commissions. Please read the Options Disclosure Document titled Characteristics and Risks of Standardized Options before considering any option transaction.

Schwab Trading Services™ includes access to StreetSmart® trading platforms, the Schwab Trading Community, and Schwab trading specialists (a Schwab brokerage account is required). There are no fees to use Schwab Trading Services. Other account fees, optional data fees, fund expenses, and brokerage commissions may apply. Schwab reserves the right to restrict or modify access at any time. Schwab brokerage account online applications that have the "Schwab Trading Services" box checked will automatically be enrolled. For questions, call 888-245-6864 to speak to a Schwab Trading Services representative.

Charles Schwab & Co., Inc. ("Schwab") (Member SIPC) and optionsXpress, Inc. ("optionsXpress") (Member SIPC) are separate but affiliated companies and subsidiaries of The Charles Schwab Corporation.